LIST OF PATENTS FILED/AWARDED
(Jan 2019 to Jan 2023)
| Sr. No. | Ref. No. | Application No. | Name of Applicants (Institute/Individual) | Name of Inventor | Name of Co-Inventor | Year of Filling/Award | Title of Patent | Patent/Concept Design | Patent Status Awarded/Filed | Enclosures |
| --- | --- | --- | --- | --- | --- | --- | --- | --- | --- | --- |
| 1 | 03-00 | 359420001 | Lexicon Management Institute of Leadership and Excellence | Mr. Nasir Shaikh | Dr. Raju Varghese V. | 2022 | Foldable Bag | Foldable Bag | Registered and Filed | |
| 2 | - | 202241055511 | Dr. Swati Manoj Yeole | Dr. Swati Manoj Yeole | Dr. Asita Ghewari | 2022 | Framework design for an investigation into the optimization of core HR administrative activities through outsourcing. | HR Management | Filed | |
| 3 | TEMP/ E-1/36803/2022-DEL | 202211032841 | Dr.Anshuman Magar | Dr.Anshuman Magar | Dr Anurag Agarwal | 2022 | Impact on investment pattern with special reference to small and medium capitalization companies | Impact on investment pattern with special reference to small and medium capitalization companies | Filed | |
| 4 | E-12/6161/2022 /CHE | 202241047511 | Dr.Anshuman Magar | Dr.Anshuman Magar | Dr. Madhuri Ganesh Chaure | 2022 | The Study On Training And Development Program For Enhancing The Performance Of The Employee In An Organization | The Study On Training And Development Program For Enhancing The Performance Of The Employee In An Organization | Filed | |
| 5 | - | 202221047558 | Dr.Anshuman Magar | Dr.Anshuman Magar | Dr.Sanjay Prasad | 2022 | Workflow of Auditing In Banking Sector & Methods Thereof | Workflow of Auditing In Banking Sector & Methods Thereof | Filed | |
| 6 | - | 202321004283 | Dr.Ganesh Waghmare | Dr.Ganesh Waghmare | Dr. Dilipkumar Sharma | 2023 | Impact of total quality management practices on customer retention and satisfaction | Impact of total quality management practices on customer retention and satisfaction | Filed | |
| 7 | - | 202241057165 A | MR. SANDEEP L. SARKALE | MR. SANDEEP L. SARKALE | PROF. (DR.) MILIND AUDUMBAR KULKARNI,Etc. | 2022 | Design Framework For Conducting An Assessment Of The Inventory Management In An Organization. (Field: Management) | The designed framework is basically used to perform assessment of the inventory management in an organization. | Filed | |
Faculty Details
Sr. No
Name of the faculty
Gender
Academic Designation
Date of birth (DD/MM/YYYY)
Highest University Degree
Total Teaching Experience (In Yrs)
Total Industry Experience (In Yrs)
Total Experience (In Yrs)
Currently Working with Institutions
Association type
Date of joining the institute (Latest Joining) (DD/MM/YYYY)
Faculty Profile URL
Academic
Industry
1
Mr. Abdul Nasir Ahmed Shaikh
Male
CEO
22/01/1978
MBA
3
20
23
YES
Regular
01/04/2020
2
Dr. Bharat Bhushan
Male
Dean Academics
16/07/1962
Ph.D
26
14
40
YES
Regular
01/12/2022
3
Dr. Jitender Kumar Sharma
Male
Professor and Director
07/08/1968
Ph. D
24
9
33
YES
Regular
16/07/2018
4
Dr. Vazhapilly Raju Varghese
Male
Associate Professor
09/04/1973
Ph. D
19
5
24
YES
Regular
07/08/2018
5
Mr. Parmeshwar Kawale
Male
Registrar & Assistant Professor
07/05/1986
MBA, NET
11
2
13
YES
Regular
01/07/2015
6
Dr.Piali Haldar
Female
Professor
02/06/1969
Ph. D
18
8
26
YES
Regular
2/2/2023
7
Dr. Lambodar Saha
Male
Associate Professor
27/10/1965
Ph. D
16
20
36
YES
Regular
30/10/2021
8
Dr. Ganesh Waghmare
Male
Associate Professor
12/10/1982
Ph. D
17
2
19
YES
Regular
02/05/2022
9
Dr. Swati Yeole
Female
Associate Professor
07/06/1979
Ph. D
18
0
18
YES
Regular
02/01/2020
10
Dr. Vineeta Agarwal
Female
Associate Professor
27/10/1982
Ph. D
8
1
9
YES
Regular
01/07/2019
11
Dr. Mayadevi Jadhav
Female
Assistant Professor
02/06/1976
Ph D
15
3
18
YES
Regular
02/01/2023
12
Dr. Govind Rathod
Male
Assistant Professor
1/7/1970
Ph. D
12
5
17
YES
Regular
21/12/2022
13
Dr. Anshuman Magar
Male
Assistant Professor
20/11/1987
Ph. D
11
1 Yr. 5 M.
11
YES
Regular
26/12/2022
14
Dr. Sandeep Sarkale
Male
Assistant Professor
5/2/1986
Ph.D.
9
9 M.
9
Yes
Regular
2/16/2023
15
Dr. Kashmira Lonkar
Female
Assistant Professor
02/07/1989
Ph.D
9
0
9
YES
Regular
30/10/2020
16
Ms. Rachana Pulgam
Female
Assistant Professor
11/9/1977
MBA (Finance), M.Com
12
3
3
YES
Regular
08/06/2022
17
Mr. Vikram Singh
Male
Assistant Professor
22/01/1979
MBA
15
4
19
YES
Regular
21/11/2016
18
Ms. Farheen Belgaumwala
Female
Assistant Professor
24/03/1980
B.Sc., MMS
14
3
17
YES
Regular
23/05/2020
19
Ms. Nasiba Rukshana
Female
Assistant Professor
04/01/1980
MBA
17
0
17
YES
Regular
17/02/2021
20
Ms. Rachana Pulgam
Female
Assistant Professor
09/11/1977
MBA(Finance), M.Com
12
3
15
YES
Regular
08/06/2022
21
Mr. Sangram Raje
Male
Assistant Professor
22/05/1987
MBA
2
10
12
YES
Regular
27/07/2020
22
Mr. Anand Bhushan
Male
Assistant Professor
30/09/1965
MBA
2
10
12
YES
Regular
02/03/2022
23
Mr. Gopal Dutta
Male
Assistant Professor
23/05/1982
MBA
11
0
11
YES
Regular
18/11/2019
24
Mr. Vijay Bohra
Male
Assistant Professor
28/08/1987
MBA
11
0
11
YES
Regular
10/03/2022
25
Ms. Shagufta Ashraf
Female
Assistant Professor
21/09/1987
MBA
4
7
11
YES
Regular
11/01/2020
26
Mr. Atul Soman
Male
Assistant Professor
10/05/1964
MBA
1 Yr. 5 M.
10
10
YES
ADHOC
22/11/2021
27
Ms. Tanushree Chaudhary
Female
Assistant Professor
27/08/1985
MBA
10
0
10
YES
Regular
08/08/2019
28
Ms. Kavita Pareek
Female
Assistant Professor
18/03/1989
M.Com, NET (Persuing Ph.D)
9
0
9
YES
Regular
08/12/2022
29
Ms. Mitali Varhade
Female
Assistant Professor
22/07/1993
MBA
8
0
8
YES
Regular
16/03/2020
30
Ms. Mukta Agrawal
Female
Assistant Professor
27/01/1989
MBA
8
0
8
YES
Regular
01/03/2017
31
Ms. Swati Virmani
Female
Assistant Professor
02/02/1987
MBA, NET- JRF
8
0
8
YES
Regular
18/07/2022
32
Ms. Manisha
Female
Assistant Professor
28/08/1992
MBA
2
6
8
YES
Regular
10/01/2020
33
Ms. Jyoti Phulari
Female
Assistant Professor
28/03/1982
MBA
1 Yr. 8 M.
3
3
YES
Regular
20/05/2022
34
Ms. Saumya Mishra
Female
Assistant Professor
27/05/1994
MBA
4
0
4
YES
Regular
24/09/2018
35
Mr. Harsh Lazarus
Male
Assistant Professor
03/05/1994
PGDM
6 M.
5
5
YES
Regular
17/11/2022
36
Mr. Nishant Tyagi
Male
Assistant Professor
03/05/1994
MBA
2
3
5
YES
Regular
28/11/2022
37
Mr. Rehan Sheikh
Male
Assistant Professor
07/07/1997
MBA
1
4
5
YES
Regular
09/05/2022
38
Mr Gurudas Sinalkar
Male
Assistant Professor
17/04/1985
MBA
2
0
2
YES
Regular
14/03/2022
39
Mr. Vineet Borkar
Male
Assistant Professor
23/02/1999
MBA
2
0
2
YES
Regular
07/01/2021
40
Ms. Shivangi Singh
Female
Assistant Professor
23/08/1997
MBA
2
0
2
YES
Regular
01/05/2022
41
Mr. Rammohan Tumuluri
Male
Assistant Professor
23/02/1975
MBA
1
1 Yr. 10 M.
1
YES
Regular
01/04/2022
42
Ms. Tarana Agrawal
Female
Assistant Professor
28/01/1989
PGDM
1
8
9
YES
Regular
25/10/2021
43
Mr. Nikhil Sharma
Male
Assistant Professor
28/10/1980
M.Tech
18
0
18
YES
Regular
01/08/2016
Sr. No.
Name of the faculty
Programme
Gender
Academic Designation
Date of birth (DD/MM/YYYY)
Highest University Degree
Experience Details (Faculty experience in the relevant subject area)
Currently Working with Institutions
Association type
Date of joining the institute (Latest Joining) (DD/MM/YYYY)
Faculty Profile URL
Total Teaching Experience (In Year)
Total Industry Experience (In Year)
Total Experience (In Year)
1
Prof. Ajit Thatte
PGDM
Male
Assistant Professor
1/9/1953
B.Tech (IIT K.),PGDM
15
38
53
YES
Visiting
29-06-2021
2
Dr. Ranbir Bhatia
PGDM
Male
Assistant Professor
8/6/1949
Ph.D, M.Tech, B.E.
17
36
53
YES
Visiting
14-07-2021
3
Prof. Prakash Shastri
PGDM
Male
Assistant Professor
8/1/1959
M.com, B.Com
3
47
50
YES
Visiting
31-07-2021
4
Prof. Madhup Gandhi
PGDM
Male
Assistant Professor
2/15/1968
B.Tech, MBA
19
29
48
YES
Visiting
06-07-2021
5
Prof. Ajay Bhatnagar
PGDM
Male
Assistant Professor
9/11/1964
B.Tech,BBA,MBA
12
30
42
YES
Visiting
19-11-2021
6
Prof. Vijay Haldavnekar
PGDM
Male
Assistant Professor
9/28/1954
L.L.B, DFM, DBM
9.5
29
38.5
YES
Visiting
10-06-2021
7
Mr. Dilip Thosar
PGDM
Male
Assistant Professor
5/2/1962
B.Tech, PGDM,
10
25
35
YES
Visiting
16-07-2021
8
Mr Gurmeet Singh
PGDM
Male
Assistant Professor
9/23/1957
B.sc , Diploma in Management
2
33
35
YES
Visiting
07-08-2021
9
Prof. Avinash Kulkarni
PGDM
Male
Assistant Professor
6/2/1971
MPM, PGDBM,
1
31
32
YES
Visiting
10-06-2021
10
Dr. Pranab Dev
PGDM
Male
Assistant Professor
12/23/1965
Ph.D, MBA
20
12
32
YES
Visiting
29-06-2021
11
Mr. Stefano Pelle
PGDM
Male
Assistant Professor
19.02.1964
Post Graduated Marketing
15
15
30
YES
Visiting
31-07-2021
12
Dr. Vivek Marathe
PGDM
Male
Assistant Professor
8/4/1972
B.Tech,PGDM,MCA,MMS (FINANCE) , Ph.D
20
5
25
YES
Visiting
19-11-2021
13
Dr. Sweta Banerjee
PGDM
Female
Assistant Professor
11/2/1969
P.hd, MBA, Mphil
25
0
25
YES
Visiting
16-03-2022
14
Dr. Manju Rughuwani
PGDM
Female
Assistant Professor
7/18/1979
Ph.D , PGDJMC
22
0
22
YES
Visiting
16-03-2022
15
Dr. Prashant Ubarhande
PGDM
Male
Assistant Professor
5/27/1984
B.Sc., MBA
11
10
21
YES
Visiting
10-06-2021
16
Mr. Amarendra Chitale
PGDM
Male
Assistant Professor
12/14/1979
MBA, B.E.
12
8
20
YES
Visiting
01-07-2021
17
Ms. Kirti Velapure
PGDM
Female
Assistant Professor
10/14/1979
BCS, MCA, MCM, PMP
5
15
20
YES
Visiting
16-07-2021
18
Mr. Sopan Shewale
PGDM
Male
Assistant Professor
12/1/1971
BCS, M.Sc Mathematics
20
0
20
YES
Visiting
05-01-2022
19
Dr. Devidas Golhar
PGDM
Male
Assistant Professor
2/4/1976
Ph.D, M.M.S, B.A,
18
0
18
YES
Visiting
16-03-2022
20
Mr. Kunal Kumar
PGDM
Male
Assistant Professor
8/23/1980
MBA
2.5
15
17.5
YES
Visiting
06-07-2021
21
Prof. Nadaya Narsidani
PGDM
Female
Assistant Professor
2/28/1974
B.Com, MBA, ACMA(ICWA),NET
6
11
17
YES
Visiting
1/7/2021
22
Dr. Priyanka Srivastava
PGDM
Female
Assistant Professor
8/1/1979
B.Com, MBA, M.Com, P.hd
12
4
16
YES
Visiting
26-08-2021
23
Dr. Laxman Doiphode
PGDM
Male
Assistant Professor
9/10/1982
M.com. MBA, Ph.D
12
4
16
YES
Visiting
15-12-2021
24
Prof. Sashi Bhushan Rai
PGDM
Male
Assistant Professor
3/22/1979
B.com , MBA
13
0
13
YES
Visiting
16-03-2022
25
Prof. Kanchan Jatkar
PGDM
Female
Assistant Professor
6/26/1986
P.hd, MBA
12
0
12
YES
Visiting
16-03-2022
26
Dr. Bhavika Nathani
PGDM
Female
Assistant Professor
4/24/1986
Ph.D, MPM,PGDM, B.Com
12
0
12
YES
Visiting
28-6-2022
27
Ms. Reshma Wable
PGDM
Female
Assistant Professor
11/26/1986
B.E, NLP
7
5
12
YES
Visiting
03-08-2021
28
Dr. Ganesh Lande
PGDM
Male
Assistant Professor
10/11/1984
Ph.D, MBA , M.Com
0
11
11
YES
Visiting
16-03-2022
29
Ms. Gauri Ghare
PGDM
Female
Assistant Professor
2/20/1984
Master in German
10
0
10
YES
Visiting
05-08-2021
30
Mr. Pratyush Shastri
PGDM
Male
Assistant Professor
7/15/1991
B.Tech
2
7
9
YES
Visiting
16-07-2021
31
Mr. Chirag Kotari
PGDM
Male
Assistant Professor
3/18/1991
B.E
9
0
9
YES
Visiting
15-07-2021
32
Mr. Varun Sachdeva
PGDM
Male
Assistant Professor
7/28/1988
B.Com, MBA
2.5
5.5
8
YES
Visiting
07-07-2021
33
Prof. Urvashi Kapoor Batho
PGDM
Female
Assistant Professor
9/18/1986
BCA, MBA
6.5
0
6.5
YES
Visiting
16-03-2022
34
Prof. Geeta Vishwakarma
PGDM
Female
Assistant Professor
7/1/1975
M.Ed
5
0
5
YES
Visiting
30-10-2020
35
Prof. Deepa Desai
PGDM
Female
Assistant Professor
6/25/1987
M.B.A
5
0
5
YES
Visiting
16-03-2022
LIST OF BOOKS PUBLISHED
(Jan 2019 to Jan 2023)
Sr. No.
Name of The Author
Name of The Co-Author
Type of Book (Reference/Te xt Book)
Title Of Book
Publication Details
Publication Year
ISBN
DOI No.
Name of Publisher
Edition
Copyright (if any)
Enclosures
1
Dr. Swati Yeole
Prof. Bhushan Pednekar
Text Book
Organisational Behaviour
2018
Mithun7982 978-93-87665-13-2
-
Success Publications
First Edition
Yes
2
Dr.Lambodar Saha
Dr.Anand Dadas
Text Book
Organisational Behaviour
2019
978-93-88809-79-5
-
Thakur Publications
3rd edition
No
3
Dr.Lambodar Saha
Dr. Varsha Bhabad
Text Book
Strategic Human Resource Management
2020
978-93-87093-93-5
-
Thakur Publications
3rd edition
No
4
Prof. Kavita Pareek
Dr.Varsha Goyal, Dr. Payal Samdariya
Text Book
International Finance
2020
978-81-9478673-3
-
TechKnowledge Publications,
First Edition
Yes
5
Dr.Ganesh Waghmare
Dr.Ramesh Sardar
Text Book
Startup Ecosystem in India: Text and Cases
2020
978-93-5433-574-7
-
Himalaya
Publishing House
First Edition
Yes
6
Dr.Anshuman Magar
Dr. Sunil Adhav
Text Book
Financial Management
2022
978-93-95456-13-5
10.25215/9395456132
Redshine Publication
First Edition
Yes
7
Dr.Anshuman Magar
Dr. Purushottam Petare
Text Book
Financial Markets and Services
2023
978-93-954569-9-9
10.25215/939545699X
Redshine Publication
First Edition
Yes
8
Dr.Anshuman Magar
Dr. Sharif Mohd.
Text Book
International Financial Management - Under Publication process
2023
978-93-95936-89-7
-
AGP
Publication
First Edition
Yes
9
Prof. Kavita Pareek
Dr.Shyam K
Reference Book
Financial Management
2023
978-81-19070-11-4
10.25215/8119070119
Redshine
Publication
First Edition
Yes
10
Dr. Piali Haldar
Dr. Singh, Dr A Kumari
Reference Book
Digital Disruption and Environment, Social & Governance
2023
978-93-92363-32-3
Bazooka
Publication
First Edition
Yes
Chapters Published in Books
Sr. No.
Name of The Author
Name of The Co-Author
Type of Book (Reference / Text Book)
Title Of Book
Publication Details
Publicat ion Year
ISBN
DOI No.
Name of Publisher
Edition
Copyright (if any)
Enclosures
1
Dr. Vineeta Agrawal
Individual
Text Book Chapter
Digital Education in India: A SWOT Analysis In The Context Of Covid-19"
2021
978-3-96492-254- 0
-
Weser Books
First Edition
-
PDF
2
Dr. Vineeta Agrawal
Individual
Text Book Chapter
Post Covid Emerging sectors in Indian Economy
2022
978-93-91248- 02-4
https://doi.org/10.5 281/zenodo.679303 7
MKSES Books
First Edition
-
PDF
3
Dr.Ganesh Waghmare
Individual
Text Book Chapter
Handbook of Research on Data-Driven Mathematical Modeling in Smart Cities
2023
978-93-5433-574-7
-
IGI Global Publisher
First Edition
-
PDF
RESEARCH PROJECTS
(Jan 2019 to Jan 2023)
Sr. No.
Sponsored By
Type
Title of Project
Researcher
Co-Researcher
Sponsership Amount (In Lac)
Duration
Year
Enclosures
1
Government of Maharashtra (Rajbhavan), Mumbai
Non Sponserd
Mission Confidance - Maharashtras mood on Vaccine
Dr. Raju Varghese
Individual
0
1 Month
2020-21
2
Multifit Wellness Private Limited, Pune
Sponserd
To study the challenges of registration of membership for Gym facilities in Pune City
Dr. Raju Varghese
Individual
5
6 Months
2021-22
3
Educrack Private Limited, Pune
Sponserd
To study the effectiveness of AI based assesment system for online examination
Dr.Kashmira Lonkar
Individual
3
3 Months
2021-22
4
Lexicon Media Private Limited, Pune
Sponserd
Consumer Behaviour of Readership of News Paper amongst milenials of Pune City
Dr. Jitender Kumar Sharma
Individual
2
3 Months
2021-22
5
Searchbourne Consulting Private Limited, Pune
Sponserd
A study of post pandemic performance appraisal systems of IT compines in Hinjewadi, Pune
Ms. Farheen Belgaumwala
Individual
3
3 Months
2021-22
6
Kshitij Management Consultants, Pune
Sponserd
A comparative study of tax assesment under old and new tax regime in Pune city
Mr.Parmeshwar Kawale
Individual
2
3 Months
2021-22
7
Educrack Private Limited, Pune
Sponserd
To understand the Techonology Interface at Coaching
Institutions and to ascertain their need for robust technology platform
Mr. Nasir Shaikh
Individual
1
3 Months
2021-22
8
RecruitEssay Plus
Sponserd
To study the effectiveness of AI based ptlatform for recruitemnt agenices in PCMC, Pune
Dr. Jitender Kumar Sharma
Individual
2
3 Months
2021-22
CONSULTANCY PROJECT
(Jan 2019 to Jan 2023)
Sr. No.
Sponsored By
Title of Project
Researcher
Co-Researcher
Sponsership Amount 

(In Lac)

Duration
Year
1
Sony Paints Private Limited, Nagpur
Stratup Consultancy
Dr. Raju Varghese
Individual
2
12 Months
2020-21
2
Rest the case, Pune
Awareness of online legal solutions platform
Mr. Nasir Shaikh
Individual
1.5
3 Months
2020-21
3
Aaha Pav Bhaji, Pune
Setting up of Covid 19 Compatable Fast food delivery services in Pune
Ms. Farheen Belgaumwala
Individual
1
3 Months
2020-21
4
Multifit Wellness Private Limited, Pune
"Future of fitness" Study of Franchisee fees and models via regions for Gyms in India
Dr. Jitender Kumar Sharma
Individual
2.25
3 Months
2020-21
5
Educrack Private Limited, Pune
"Leveraging on studentsperformance for online preparation of competitive exams"
Dr.Kashmira Lonkar
Individual
0.61
3 Months
2020-21
6
VSqure Beverages, Pune
A critical analysis of business with respect to peopl, process, marketing and finance
Dr. Jitender Kumar Sharma
Individual
1.18
12 Months
2021-22
7
Coffee Max Beverages, Pune
A critical analysis of business with respect to peopl, process, marketing and finance
Dr. Jitender Kumar Sharma
Individual
1.18
12 Months
2021-22
8
Lexicon Lifestule Private Limted
Competition and Brand analysis of CITTA brand baby products
Dr. Raju Varghese
Individual
3
 
2021-22
9
Dhanapriya Auto Udyog, Pune
Small business consulting
Mr. Nasir Shaikh
Individual
8.26
12 Months
2021-22
10
Mahek Industries, Pune
Transformational management project with a vision of employing 1000 people by 2030
Ms.Tanushree Chaudhary
Individual
1.88
12 Months
2021-22
11
Rakesh Transformers Pvt. Ltd, Pune
Small business consulting
Ms. Farheen Belgaumwala
Individual
1.77
12 Months
2021-22
12
Amar Transformers Pvt. Ltd, Pune
Small business consulting
Dr.Kashmira Lonkar
Individual
3
12 Months
2021-22
13
Thinker Place Pvt. Ltd,Pune
Impact of STEM Toys in Learning of Stduents at Elementary Level
Mr.Parmeshwar Kawale
Individual
3.896
12 Months
2021-22
SEMINARS/CONFERENCES/WORKSHOPS/WEBINARS ORGANISED BY
LEXICON MANAGEMENT INSTITUTE OF LEADERSHIP AND EXCELLENCE (Jan 2019 to Jan 2023)
| S.No. | Name of the Organising | Member of Organising | Name of the Partners | Theme of the Event with Joint | Date of | Venue of the | No. of | Research | No. of | No. of Papers Published with | Funding | Names of Resource | Enclosure |
| --- | --- | --- | --- | --- | --- | --- | --- | --- | --- | --- | --- | --- | --- |
| 1 | Lexicon Management | Dr. J.K. Sharma - Convener | - | Learning and Development Conclave | 29 Jan 2022 | Lexicon MILE | 120 | - | - | - | - | 1) Pooja Bansal | - |
| 2 | Lexicon Management | Dr. Swati Yeole, Dr. Ganesh | University of South Wales - UK, | International Conferenece on | 24th September | Lexicon MILE | 500 | 190 | 181 | Paper publication in process-JIBE | , NO | 1) Dr. Parag Kalkar | - |
| 3 | Lexicon Management Institute of Leadership and Excellence | Dr. J.K. Sharma - Convener Dr. Vineeta Agarwal, Mr. Sachin Govalkar, Ms.Pratibha Mandage, Ms. Anju Raheja | Taylor University, Malaysiya, Universitas Pancashila, Indonesia, University of South Wales - UK, University of New Haven - USA Savitribai Phule Pune University – Pune | International Conference on Glocal Evaluation: Through and Post COVID 19 Times | 4th and 5th September 2021 - | Lexicon MILE | 500 | 230 | 221 | All Papers Published - Human Resource Mangement Journal (SCOPUS- WILEY)Shodh Sarita Shodh Sanchar, JIBE, Kala Sarovar, Kanpur Pholosophers, University of South Wales - UK, University of New Haven - USA, and Savitribai Phule Pune | NO | 1) Mr.Neeraj Sharma 2) Mr. Nasir Shaikh 3 Dr. Syed Jamil 4) Dr. Indranil Bose 5) Dr.Hera Oktadiana 6) Dr. Barkathunnisha | - |
| 4 | Lexicon Management | - | - | Lexicon Management Ins tute of | 6th July, 2019 | Lexicon MILE | | | | - | | - | - |
| 5 | Lexicon Management | Dr. Jitender Sharma - | Think India Journal - Publishing Partner | National Conference on "Role of | 21st December | Lexicon MILE | 110 | 40 | 35 | Lexipedia, ISSN: 2321 - 6964 | NIL | 1) Lee Courtney 2) | - |
| 6 | Lexicon Management | Dr. Jitender Sharma - | AICTE | Seminar on "Excellence in Technical | 24th August | Lexicon MILE | 150 | - | - | - | - | Shri Alok Prakash | - |
LIST OF RESEARCH PAPERS PUBLISHED (Jan 2019 to Jan 2023)
S.No
Name of the Author
Co-Author-1 (if any)
Co-author-2 (If any)
Research Tittle
Name of the Journal
Volume & Issue
ISSN / E ISSN / ISBN
Month of Publication
Year of Publication
ABDC/ UGC Care/ WoS/ Scopus/ UGC Listed /Conference Proceedings etc.
Details of Conference (Organisation, Theme, Date & Venue)
Type of conference (National / International)
No of Citations with H Index
Enclosure
1
Dr.Ganesh Waghmare
Individual
Individual
Design Thinking: A Creative Approach to develop An employee experience scale

Prabandhan: Indian
Journal of Management

Vol. 16, No. 02

ISSN 0975-2854
Feb.
2023
Scopus
-
-
-
shorturl.at/qwAEV
2
Dr.Ganesh Waghmare
Individual
Individual
Image Of Ayurvedic Product Brands And Buying Behaviour: A Perceptual Mapping For Pune City
Journal of Positive School Psychology
Vol. 6, No. 11
ISSN 2717-7564
Jan- June
2022
Scopus
-
-
-
shorturl.at/ekvxM
3
Dr.Ganesh Waghmare
Individual
Individual
Growth Of over-The-Top (OTT) Video services In India
Manager-The British Journal of Administrative Management
Volume 58, Issue 147
ISSN - 1746 1278
Feb.
2022
ABDC
-
-
1 / 1
https://tbjam.org/vol58-issue-147/
4
Dr.Ganesh Waghmare
Individual
Individual
Are Private Banks In India Seeking Welfare Of The Stakeholders Through Csr Program?: An Empirical Study
Empirical Economics Letters
Vol. 21 (1)
ISSN 1681 8997
June 2022
2022
ABDC
-
-
-
shorturl.at/ouxR1
5
Ms.Rachana Pulgam
Individual
Individual
"A Study On Provisions Of Crypto Assets In Financial Budget 2022-23"
International Journal of Advance and Innovative Research.
Volume 9, Issue 2 (XII) April – June 2022
ISSN: 2394 – 7780
June 2022
2022
UGC Approved Journal
KLE Society's Science and Commerce College, Kalamboli 12.4.2022
National
-
shorturl.at/oHN68
6
Ms.Rachana Pulgam
Nidhi Medhekar
Akansha Vaidya
"Role Of Fintech In Development Of Indian Economy"
DYPU Conference Proceedings: Fostering Resilient Business Ecosystems and Economic Growth: Towards the Next Normal
Vol. (1)
978-81-950596-1-4
July 2022
2022
Conference Proceedings
D.Y. Patil University and Dr. Soetomo University, Indonesia & AIMS, India.
Fostering Resilient Business Ecosystems and Economic Growth: Towards the Next Normal 29.4.2022

International
-
shorturl.at/ovDG3
7
Ms.Rachana Pulgam
Individual
Individual
"A Study Of Opportunities And Challenges For Indian Start-Ups"
Journal of Maharaja Sayaji University of Baroda
Vol. 56 No. 1(V) (Science & Technology) Vadodara 2022
ISSN: 0025-0422
January
2022
UGC Care
Annasaheb Dange ACS, Kolhapur
National
-
shorturl.at/jCIOQ
8
Dr. Lambodar Saha
Individual
Individual
A Study on the Behavioral and Attitudinal Changes During COVID-19 among the People of Maharashtra
Journal of Education
XXX & 3(II)
0972-7175
December
2022
UGC Care
-
-
-
shorturl.at/ctBGQ
9
Dr. Lambodar Saha
Individual
Individual
An Analysis of Employee Job Satisfaction of Commercial Banks in Pune Region during Covid-19 Pandemic
Journal of Education
XXX & 3(II)
0972-7176
December
2022
UGC Care
-
-
-
shorturl.at/fhAT4
10
Dr.Mayadevi Jadhav
Individual
Individual
Consumer Buying Behavior Towards FMCG Products With Special Reference To Latur District
AJANTA Publications UGC Listed Peer Review
Journal
XI & 3
ISSN 2277-5730
JULY-AUG
2022
UGC Listed Peer Review
-
-
-
shorturl.at/wzTY5
11
Dr.Mayadevi Jadhav
Dr. Niraj C.Chaudhari
Mr.Rushikesh D.Pagare
Brand Awareness And Buying Behavior Of Adolescence Students For Body Care Products - Study Conducted For District Ahmednagar
SHOdhasamhita : Journal of Fundamental & Comparative Research
Vol .No .IX, Issue- I (XVIII)
ISSN 2277-7067
January – June
2022
UGC care(Group 1)
-
-


https://rb.gy/ckk2
12
Dr.Govind Teju Rathod
Individual
Individual
" Financial Services Marketing A Review"
Shodhasamhita : Journal of Fundamental & Comparative Research
Vol. VIII, Issue-II,
ISSN: 2277-7067
July – December
2022
UGC care
-
-
-
shorturl.at/hzV34
13
Dr. Vineeta Agrawal
Dr. Lambodar Saha
-
A Study on the Behavioral and Attitudinal Changes During COVID-19 among the People of Maharashtra
Journal of Education (Rabindra Bharti University)
Vol.: XXV, No. :3(II)
ISSN – 0972-7175
February
2022
UGC Care
-
-
-
Printed Journal
14
Dr. Vineeta Agrawal
Dr. Lambodar Saha
-
An Analysis of Employee Job Satisfaction of Commercial Banks in Pune Region during Covid-19 Pandemic
Journal of Education (Rabindra Bharti University)
Vol.: XXV, No. :3(II)
ISSN – 0972-7175
February
2022
UGC Care
-
-
-
Printed Journal
15
Dr. Swati Manoj Yeole
Individual
Individual
Social Media Craze Among Children & Behavioural Change
Journal of Education (Rabindra Bharti)
Vol.: XXV, No. :3(IV)
ISSN : 0972-7175
May
2022
UGC Care




-
https://bit.ly/3zofrJq
16
Mr. Parmeshwar Kawale
Individual
Individual
Importance of Digitization in Banking Sector in India






2022






-
Printed Journal
17
Dr. Swati Manoj Yeole
Dr. Lambodar Saha
-
A study on User Perspective on OTT platform in India
Journal of Positive School Psychology
Vol. 6, No. 3,
2717-7564 (Online)
February
2022
Scopus




1
shorturl.at/cnwE2
18
Dr. Lambodar Saha
Dr. Swati Manoj Yeole
Individual
A Conceptual Study On Women Leadership And Its Influence On Work Culture During Second Wave Of Covid-19 In Corporate Sector
Manager – The British Journal of Administrative Management (TBJAM)
58 & 150
1746-1278
June
2022
ABDC
-
-
-
shorturl.at/eS089
19
Dr. Swati Manoj Yeole
Individual
Individual
When Gen Z Buys Headphones, Colour Matters: A Study Of Colour Psychology Of Gen Z
Korea Review Of International Studies
Volume 15 | Issue 40
ISSN - 1226-4741
February
2022
ABDC
-
-
-
https://bit.ly/3U8bYs3
20
Dr.Mayadevi Jadhav
Individual
Individual
Brand Awareness And Buying Behavior of Adolescence Students For Body Care Products - Study Conducted For District Ahmednagar.
Shodhasamhita
Vol .No .IX, Issue- I (XVIII)
ISSN 2277-7067
January – June
2022
UGC Care
-
-
-
http://surl.li/qryh
21
Dr.Raju Varghese
Dr.Leena Dam


Kasar' community: migration from community business
International Journal of Entreprenureship and small business
47 no. 2/3
1741-8054
June
2022
Scopus
-
-
-


22
Prof. Tarana Agrawal
Individual
Individual
Emerging Trends In Celebrity Brand Endorsement During Covid 19 In India- Shift From Offline To Online Means
N.A.
N.A.
N.A.
N.A.
2022
UGC Listed
-
-
-
Printed Journal
23
Dr.Govind Teju Rathod
Individual
Individual
" Review of Attempts to Model Marketing Audit"
Journal of Fundamental & Comparative Research
Vol. VIII, Issue-II, No.11
ISSN: 2277-7067
July – December
2022
UGC Care
-
-
-
shorturl.at/fvB47
24
Mr. Sandeep Sarkale
Dr. Sheetal Umbrkar
-
The Analysis of Factor Influencing E-Buying Behaviour of Consumer Towards Online Pharmacies With Special Reference to Pune City in Maharashtra, India
Journal of Pharmaceutical Negative Results
Vol-13, Special Isuue-9
0976-9234,
December
2022
Scopus
-
-


shorturl.at/yDMN3
25
Dr.Govind Teju Rathod
Individual
Individual
"A comparative study of the Organizational Structure and Climate of Government and Privately managed Primary Schools with reference to Solapur district" A pilot Study
Vidyabharati International Interdisciplinary Research Journal
12(1) 293-302
ISSN 2319-4979
March
2021
UGC Care
-
-
-
shorturl.at/cnyzP
26
Dr. Swati Manoj Yeole
Individual
Individual
A Case-Article On A Crying Neonate In The Organization: A Case On Insecurity & Psychological Imbalance
Modern Thamizh Research (A Quarterly International Multilateral Thamizh Journal)
Special Issue
ISSN : 2321-984X)
October
2021
UGC Care
-
-
-
https://bit.ly/4305gsj
27
Dr.Ganesh Waghmare
Individual
Individual
A study on understanding future of Artificial Intelligence in the various functions of marketing
Turkish Online Journal of Qualitative Inquiry
Volume 12, Issue 6
e-ISSN 1309-6591
June
2021
Scopus
-
-
-
http://surl.li/fyjqb
28
Dr.Ganesh Waghmare
Individual
Individual
Growth analysis of educational technology market in India
Turkish Online Journal of Qualitative Inquiry
Volume 12, Issue 6
e-ISSN 1309-6591
June
2021
Scopus
-
-
-
shorturl.at/fmBPY
29
Dr. Vineeta Agrawal
Individual
Individual
Online Classes & COVID -19: Experiences of Remote Learning from the Perspective of Students and Educators

Kanpur Philosophers
Volume-8, Issue-1, June 2021
ISSN No.-2348-8301
June
2021
UGC Care
-
-
-
shorturl.at/pAFU3
30
Dr. Lambodar Saha
Individual
Individual
To Study of Employee Morale Level During Covid-19 Pandemic Situation At RSB Transmissions (I) Ltd. Pune
The Journal Oriental Resaerch Madras
SCII & 5

0022-3301
Sept
2021
UGC Care
International Conference on Sustainable Development, St. Kabir Institute of Professional Studies (SKIPS), Ahmedabad, 7th Aug 2021
International
-
shorturl.at/bdxCY
31
Dr.Raju Varghese
Individual
Individual
Evolution of business communities and its impact on business decisions. Studies in Indian Place
Kalasarovar Publication
Vol- 24 No. 4 -2021
0975 - 4520
April
2021
UGC Care
-
-
-
Link in Google Drive
32
Dr. Lambodar Saha
Individual
Individual
A Study On E-Leadership Trends In 21st Century In Corporate Sector
The International Research Journal of Social Sciences And Humanities
N.A.
2320‐4702
Sept
2021


-
-
-
Printed Journal
33
Mr. Sandeep Sarkale
Individual


The Role of Social Media in Promoting Democratic Values in India
Vidyabharati International Interdisciplinary Research Journal
12 (2)
ISSN: 2319-4979
June
2021
Web of Science
-
-


shorturl.at/ijtE0
34
Mr. Sandeep Sarkale
Individual


Critical Analysis of Policy Gaps in the Indian Healthcare Delivery
Journal of Education: Rabindra Bharati University
Vol.: XXIII, No. :7
0972-7175


2021
UGC Care
-
-


Printed Journal
35
Mr. Sandeep Sarkale
Individual


To Study the Preferential Changes in Individuals' Financial Expenditure & Investment Pattern During Covid 19 Pandemic
The Journal of Oriental Research, Madras
Vol. XCII, No. 2
0022-3301


2021
UGC Care
-
-


Printed Journal
36
Dr.Govind Teju Rathod
Individual
Individual
HR Manager as the Chief Catalyst in offering Organizational Resilience
.D Y Patil School of Management, Pune
N.A.
N.A.
February
2021
UGC Listed
-
-
-
shorturl.at/cnyzP
37
Dr.Ganesh Waghmare
Individual
Individual
A case study on tactics for customer retention at Hyundai Motor India Ltd.
International Journal
of Management

Volume 12, Issue 04
ISSN- 0976-6502
April
2021
Scopus
-
-
-
http://surl.li/fykdr
38
Dr.Raju Varghese
Dr.Leena Dam


Bohra Business Community : Traditional and Progressive Business Practices
Kanpur Philosophers
Vol. VIII, Issue-I,
2348-8301
Summer
2021
UGC Care
-
-


shorturl.at/pAFU3
39
Dr. Lambodar Saha
Dr. Hrishikesh D Patil
Mr. Minto Shelley
A study of Transformational Leadership and Organisational Effectiveness in Corporate Sector, in Pune Region
Studies in Indian Place Name
40 & 95
2394-3114
February
2020
UGC Care
13 & 14 Feb 2020
National
-
shorturl.at/psBIY
40
Dr.Raju Varghese
Dr.Leena Dam


Industry relevance in Management Education through Value Additions








2020


-
-
-


41
Dr.Jitender Kumar Sharma
Geeta Vishwakarma
-
Security Risks in E-commerce: A meta-analysis of Customers' Perception
International Journal of Advanced Science and Technology
Vol. 29, No.4
ISSN: 2005-4238 IJAST
November
2020
Scopus
-
-


shorturl.at/eyI35
42
Dr.Govind Teju Rathod
Individual
Individual
"A Comparative Study Of The Organizational Structure And Climate of Government And Privately Managed Primary Schools With Reference To Solapur District"
Vidyabharati International Interdisciplinary Research Journal
Vol. 12(1)
ISSN 2319-4979
March
2020
UGC Care
-
-
-
https://shorturl.at/bltLS
43
Dr.Ganesh Waghmare
Individual
Individual
Preferential customer analysis with respect to use of digital marketing channels amongst different income groups and customer satisfaction
Test Engineering & Management

Volume 83
ISSN: 0193-4120
March-April
2020
Scopus
-
-
-
shorturl.at/qvwLS
44
Dr.Ganesh Waghmare
Individual
Individual
Remarketing through social messaging apps- Promotional Tool or Sales Strategy


Test Engineering & Management

Volume 83
ISSN: 0193-4120
March-April
2020
Scopus
-
-
-
http://surl.li/fykbz
45
Dr.Ganesh Waghmare
Individual
Individual
Corporate Internships: An effective model to develop work place skills for Employability
Test Engineering & Management

Volume 83
ISSN: 0193-4120
March-April
2020
Scopus
-
-
-
http://surl.li/fykch
46
Dr.Ganesh Waghmare
Individual
Individual
Implications of Employees Analytics in HRM In Modern Era Of Management
Journal Of Critical Reviews
VOL 7, ISSUE 11
ISSN- 2394-5125
July
2020
Scopus
-
-
-
shorturl.at/bwzI3
47
Mr. Sandeep Sarkale
Individual
Individual
Six Sigma Methodology-Overview of DMAIC & DMADV
Proceedings of the Ongoing Research In Management And It
NIL
978-93-89835-80-9
April
2020
Conference Proceedings
The central conference theme is "Ongoing Research in Management Studies and Information Technology"
International


https://shorturl.at/irEJQ
48
Mr. Sandeep Sarkale
Individual
Individual
Implications of the COVID-19 Pandemic on Educational Institutions in India
Wesleyan Journal of Research
Vol.13 No.47
0975-1386
December
2020
UGC Care
-
-


Printed Journal
49
Mr. Sandeep Sarkale
Individual
Individual
Impact of Covid-19 Pandemic on the Indian Economy
Juni Khyat
Vol-10 Issue-5 No. 7
ISSN: 2278-4632
May
2020
UGC Care
-
-




50
Dr. Anuja Johri
Individual
Individual
An Impact of Westernization on Indian Culture : An Exploratory Study
Think India Journal
Vol-22, Special Issue-20
ISSN: 0971-1260
December
2019
UGC Care
-
-
-
shorturl.at/zIZ04
51
Dr. Vineeta Agrawal
Ms. Veena Sharma
Individual
Technologyand Innovations in Forex transactions and International Remittance
Think India Journal
Vol 22 No 20 (2019)
ISSN: 0971-1260
Annual
2019
UGC Care
-
-
-
shorturl.at/lvHJP
52
Dr. Vineeta Agrawal
Individual
Individual
NABARD SHG Bank-Linkage Model: Progress,
Challenges & Recommendations
International Journal for Research in Engineering Application & Management
Vol.5, Issue 3, June 2019
ISSN 2454 – 9150
June
2019


-
-
-
shorturl.at/gtuI1
53
Dr. Vineeta Agrawal
Individual
Individual
Embracing Digital Technology in Banking : A study on Trends & Challenges
Lexipedia Journal
Annual
ISSN Number -2321-6964
Annual
2019


-
-
-
Printed Journal
54
Ms. Madhuri Bedekar
Individual
Individual
Neuroplasticity - Rewiring brain through training and development
Think India Journal
Vol-22, Special Issue-20
ISSN: 0971-1260
December
2019
Peer reviewed
National Conference on "Role of Technology in Business Sustainability and Market Transformation
National
-
shorturl.at/chnuL
55
Mr. Amar Narkhede
Individual
Individual
Neuromarketing: An Emerging Marketing Tool
Think India Journal
Vol-22, Special Issue-20
ISSN: 0971-1260
December
2019
Peer reviewed
National Conference on "Role of Technology in Business Sustainability and Market Transformation
National
-
shorturl.at/kuETW
56
Ms. Veena Sharma
Individual
Individual
Technologyand Innovations in Forex transactions and International Remittance
Think India Journal
Vol 22 No 20 (2019)
ISSN 0971-1260
December
2019
Peer reviewed
National Conference on "Role of Technology in Business Sustainability and Market Transformation
National
-
shorturl.at/kyIT8
57
Dr. Swati Manoj Yeole
Individual
Individual
A Study on Employee Absenteeism in Manufacturing Sector
Journal-Research Journey
NA
ISSN No.: 2348-7143


2019


-
-
-
Printed Journal
58
Dr. Swati Manoj Yeole
Individual
Individual
A Study on Social Media Recruitment
Journal – ASM Business Review


ISSN No. : 0974–9136


2019


-
-
-
Printed Journal
59
Prof. Sandra Cruz
Individual
Individual
A study on Consumer Buying Behaviour Towards Ready to Eat Food Industry
Lexipedia - A journal with research insight


ISSN : 2321 - 6964


2019


-
-
-
Printed Journal
60
Prof. Sandra Cruz
Individual
Individual
Comparative Analysis of Public Sector and Private Sector Bank
Lexipedia - A journal with research insight


ISSN : 2321 - 6964


2019


-
-
-
Printed Journal
61
Dr. Swati Manoj Yeole
Individual
Individual
A Comprehensive study of Existing & Future CSR Strategies for Corporate Sustainability : An Interdisciplinary Perspective.




ISBN : 978-81-925257-7-8


2019


-
-
-
Printed Journal
62
Dr. Anuja Johri
Individual
Individual
An Empirical Study on Strategy Implementation of SME in VUCA: A Case of Health Care & Wellness Start Up
Indira Management Review (IMR)
Volume XIII, Issue I, Pg No 34-44.
ISSN (Online): 2582-1261,
July
2019
UGC Care
-
-
-
shorturl.at/cfhzM
63
Dr.Anshuman Magar
Dr.N.C. Dhande
-
A study of FDI in Indian Electronics Industry
International Journal of Advance Research in Computer Science and Management Studies -
Volume 7, Issue 4,
ISSN: 2321-7782 (Online)
April
2019
UGC Listed Journal
-
-
-
shorturl.at/hrKW4
64
Dr.Anshuman Magar
Dr.N.C. Dhande
-
Make in India : How much is the Lion's share in FDI inflow?
International Journal of Advance Research in Computer Science and Management Studies -

Volume 7, Issue 4, Impact Factor: 7.327 ,
ISSN: 2321-7782 (Online) ISSN: 2347-1778 (Print)
April
2019
UGC Listed Journal
-
-
-
shorturl.at/vGJV9
65
Dr.Lambodar Saha
Individual
Individual
A study on Potential Enhancement & Reward Scheme (PERS) of Tata Motors, Pune.
International Journal Of Advance And Innovative Research
6 & 1
ISSN- 2394-7780
Feb
2019
UGC Approved
Competitive Strategies & it's Excellence in Diversified Sectors, Kautilya Institute of Management and Research Wagholi, Pune, 23&24 Feb 2019
National
-
shorturl.at/noCT6
66
Dr.Lambodar Saha
Mr. Minto Shelley Mr. Sanket Shelley
Mr. Sanket Shelley
Strategic Material Purchasing Practices of Kirloskar Brother Limited, Pune
Yashomanthan
IX & 1
2347-8039 (Print)
July
2019
(A Peer Review Multidisciplinary Research Journal)
-
-
-
Printed Journal
67
Raju Varghese
Individual
Individual
Aligning Management Education to Industry 4.0
International Research Confarance Proceeding
Vol. 1
ISBN- 978-93-89529-36-4
October
2019
Proceeding Book
Industry 4.0 - Engaging with disruptions, D.Y.Patil Vidyapith Pune
International
-
Link Google drive
PARTICIPATED/PRESENTED IN SEMINAR/CONFERENCES/WORKSHOPS/WEBINAR
(Jan 2019 to Jan 2023)
| S.No | Name | Participated/Presented (If presented mention paper title) | Year | Details of seminar / conferences/workshops/webinars (Organisation, Theme, Date & Venue) | Enclosures |
| --- | --- | --- | --- | --- | --- |
| 1 | Swati Chaudhary | Non-Performing Assets (NPA): A Big Barrier In The Sustainability Of | 2022 | International Conference On Sustainable and Innovative Business Practices | Certificates |
| 2 | Dr Vineeta agrawal | Indian Banking Sectors | 2022 | 'Sustainable Finance For Circular Economy In Pre And Post Pandemic Era' Organized By S.B. Patil Institute Of Management In Association With Indian Council Of Social Science Research | Certificates |
| 3 | Prof. Rachana Pulgam | "A Study Of Opportunities And Challenges For Indian Start-Ups" | 2022 | National seminar on "Opportunities and challenges for start-ups in India" organized by Annasaheb Dange ACS, Kolhapur on 6th May 2022 | Certificates |
| 4 | Prof. Rachana Pulgam | "A Study On Provisions Of Crypto Assets In Financial Budget 2022-23" | 2022 | National seminar on Innovative Practices In Teaching and Learning in the Digital Era, 12th April, 2022, KLE Society's Science and Commerce College, Kalamboli | Certificates |
| 5 | Dr. Lambodar Saha | TO STUDY OF EMPLOYEE MORALE LEVEL DURING COVID- 19 PANDEMIC SITUATION AT RSB TRANSMISSIONS (I) LTD. PUNE | 2021 | International Conference Organized by SKIPS, Ahmedabad | Certificates |
| 6 | Dr Vineeta Agrawal | An analysis of Trends of Non-Performing Assets in Scheduled Commercial Banks & Its Recovery Mechanism Pre and Post Financial Crisis of 2007-08 | 2021 | Sanmantrana 2021- A Multi-disciplinary Online International Congress on Good Practices and Capacity Building for Sustainable Development Goals on February 01- 03, 2021Shri Vaishnav Vidyapeeth Vishwavidyalaya, Indore | Certificates |
| 7 | Dr. Swati Manoj Yeole | A Study on the Psychological Impact of Pandemic Covid-19 on the Students in Pune | 2021 | International Conference on "Glocal Evaluation- Through and Post COVID -19 Times" | Certificates |
| 8 | Prof. Kavita Pareek | Participated | 2022 | National Webinar on 'Strategy for Managing Personal Finance' organised by New Way Educational and Rural Development Trust, Dholkha, Gujarat in Collaboration with Association of Mutual Funds in India(AMFI), on May12, 2022 | Certificates |
| 9 | Prof. Kavita Pareek | Participated | 2021 | National Webinar on 'Impact of Online Teaching on Higher Education' orgabised by Smt. Kesharbai Lahoti Mahavidyalaya, Amravati, Department of Commerce on 30th October 2021 | Certificates |
| 10 | Prof. Kavita Pareek | Participated | 2021 | National Webinar on 'Technological Reforms in Commerce & Management' organised bySCMIRT Department of Commerce & Management in Association with IQAC on 5th October 2021. | Certificates |
| 11 | Prof. Kavita Pareek | Participated | 2021 | State Level Webinar on 'Online Teaching Tools' organised by Department of Business Administration of Pratibha College of Commerce and Computer Studies, Chinchwad, Pune, on 24th September 2021. | Certificates |
| 12 | Prof. Kavita Pareek | Participated | 2021 | National Webinar on 'Consequences of Pandemic on Educational Economy' organised by IQAC of Gokhale Education Society's, Sir Dr M.S. Gosavi College of Commerce, Nashik on 21st September 2021. | Certificates |
| 13 | Prof. Kavita Pareek | Participated | 2021 | 4 days International Conference on Examinations – IDEA 2021 organised by Council of Examiners India and Skillslste Foundation, Pune powered by Zovy Studios, Pune in association with IonIdea andGniot Institute of Management, UP from 8th June 2021 to 11th June 2021. | Certificates |
| 14 | Prof. Raju Varghese | "Kasar" business community: Traditional Vs. Current Occupational Patterns | 2021 | Awarded best paper for the paper, at 5th International Seminar (Webinar) on Innovation and Recent Trends of Entrepreurship in Current Scenario organised by The ICFAI University,Tripura. | Certificates |
| 15 | Swati Chaudhary | Persisting Learning and Training in Entrepreneurship | 2020 | International Conference on Management & Information technology( ICMIT) | Certificates |
| 16 | Prof. (Dr.) Jitender Kumar Sharma | A study of prescriptive ways to reign in China from its hegemonic posturing.' | 2020 | International Conference, "Geopolitics in Post COVID Era: Emerging Dimensions and Dynamics" organized by the UGC-HRDC, Osmania University, Hyderabad | Certificates |
| 17 | Prof. (Dr.) Jitender Kumar Sharma | Work environment in retail industry and its impact on Employee engagement (Paper presented) | 2020 | International Conference on Human Resource Management (ICHRM) Gulf University | Certificates |
| 18 | Prof. Kavita Pareek | Participated | 2020 | Webinar on 'Career Opportunity in hospitality Industry' organised by Dnyansagar Institute of Management & Research, Pune on 29th and 30th September 2020. | Certificates |
| 19 | Prof. Kavita Pareek | Participated | 2020 | Live Webinar On COVID-19 a blessing in disguise - How to grab the Opportunity by Ashok Ranjith organized by Rungta Group Of Institutions (R1) On 01st August, 2020. | Certificates |
| 20 | Prof. Kavita Pareek | Participated | 2020 | International Webinar on "Strategies for Securing Digital Content" held at Rungta College of Engineering and Technology, Bhilai on 25 July 2020 under TEQIP-III. | Certificates |
| 21 | Prof. Kavita Pareek | Participated | 2020 | Live Webinar on "Global Opportunities in Pharmaceutical Sector" organized By Rungta Group Of Institutions (R1) On 18th and 19th July 2020. | Certificates |
| 22 | Prof. Kavita Pareek | Participated | 2020 | Live Webinar on "Careers along COVID 19 - Industry Readiness by Mr. Krithi Vasans" organized By Rungta Group of Institutions (R1) On Dated 18th July 2020. | Certificates |
| 23 | Prof. Kavita Pareek | Participated | 2020 | National Webinar on 'Impact of COVID-19 Pandemic on Higher Education' held on Wednesday, 15th July 2020 on the online Google meet platform. | Certificates |
| 24 | Prof. Kavita Pareek | Participated | 2020 | Live Webinar on "Winning over COVID-Recruitment Initiatives by TCS" by Manadeep Bagchi organized by Rungta Group of Institutions (R1) on 12th July 2020. | Certificates |
| 25 | Prof. Kavita Pareek | Participated | 2020 | Live Webinar on "Post COVID - Apna Time aayega" By Anurag Basu organized By Rungta Group of Institutions (R1) on 11th July 2020. | Certificates |
| 26 | Prof. Kavita Pareek | Participated | 2020 | Live Webinar on "Mega Trends for Megachanges" By Ambassador Dr. Deepak Vohra organized By Rungta Group of Institutions (R1) on 05th July 2020. | Certificates |
| 27 | Prof. Kavita Pareek | Participated | 2020 | Live Webinar on "Covid-19 is an Opportunity" Organized by Rungta Group of Institutions (R1) on 04th July 2020. | Certificates |
| 28 | Prof. (Dr.) Jitender Kumar Sharma | HR Analytics - New Paradigm Shift in Human Resource Department in Organization | 2020 | International Conference on Human Resource Management (ICHRM) Gulf University | Certificates |
| 29 | Dr. Vineeta Agrawal | Technology and Innovations In Forex Transactions And International Remittance | 2019 | National Conference on "Role of Technology in Business Sustainability and Market Transformation" | Certificates |
| 30 | Dr. Lambodar Saha | A Study on Potential Enhancement & Reward Scheme (PERS) of Tata Motors Pune | 2019 | Competive Strategies & Its Excellence in Diversified organized by JSPM Kautilya Institite of Management & Research, Pune | Certificates |
| 31 | Dr. Swati Manoj Yeole | A Study On Employee Absenteeism In Manufacturing Sector | 2019 | National Conference on "Recent Trends in Management, Computer Science & Applications" organized by Institute of Mnagement & Research, Jalgaon | Certificates |
| 32 | Prof. Raju Varghese | Aligning Management Education to Industry 4.0 | 2019 | International Conference on Industry 4.0 - Enagaing with Disruptions at Global Business Scholl & Research Centre in D.Y. Patil University | Certificates |
| 33 | Dr. Swati Manoj Yeole | 'Sustainable Finance For Circular Economy In Pre And Post Pandemic Era' | 2019 | Orgainzed by S.B. Patil Institute of Management in Association with Indian Council of Social Science Research | Certificates |
| 34 | Prof. Rachana Pulgam | "A Study On Provisions Of Crypto Assets In Financial Budget 2022-23" | 2019 | Innovative Practices In Teaching and Learning in the Digital Era, 12th April, 2022, KLE Society's Science and Commerce College, Kalamboli | Certificates |
EDPs, FDPs AND MDPs Organised by Institute
S.No.
Name of the Organising institute
Member of Organising Committee with Designation
Name of the Partners
Type
Theme of the Event
Year
Date of Events
Venue of the Event
No. of Participants
Funding Received
Names of Resource persons
Enclosure
1
Lexicon Management Institute of Leadership and Excellence
-
HSBC
FDP
FDP on "Belivie in Yourself" How to persue your dreams with a positive mindset and clear vision
2020-21
2020-21
Pune
400
0
Mr. Nasir Shaikh
2
-
NoPaperForms Solutions Pvt. Ltd.
FDP
FDP on "Belivie in Yourself" How to persue your dreams with a positive mindset and clear vision
2020-21
26th Sep 2020
Pune
278
30,000
Mr. Nasir Shaikh
3
-
-
FDP
FDP on Fundamentals and Data analysis with SPSS and Excel - Research Methodology
2020-21
28th and 29th February 2020
Pune
37
20,000
Prof. Madhavi Damle
4
-
-
FDP
FDP on Enhance online teaching skills and meet challenges like how to stay conncected to your students - Nuances of Online Teaching
2020-21
18th July 2020
Pune
63
10,000
Dr. Jitender Sharma & Dr. Raju Varghese
5
-
Automotive Research Association of India
EDP
EDP on Marketing concepts for Engineers
2021-22
2021-22
Pune
15
60000
-
6
-
Bhartiya Reserve Bank Note Mudran Pvt Ltd
EDP
EDP on finding your mindset catalyst and believe in yourself
2021-22
2021-22
Bangaluru and Mysore
10
0
-
7
Lexicon Centre of MSME Excellence -A unit of Lexicon Management Institute of Leadership and Excellence , Pune
Dr. Raju Varghese Mr. Sanju Unni Mr. Manoj Yenewwar Mr. Harsh Vaghasiya
-
EDP
EDP - GATI-Webinar for MSMEs
2021-22
25-06-2021
Pune
105
0
1. Kavil Ramchandran
2. Mr.B.G.Mahesh
3. Ms.Akanksha Sharma
8
Lexicon Centre of MSME Excellence -A unit of Lexicon Management Institute of Leadership and Excellence , Pune
Dr. Raju Varghese Mr. Sanju Unni Mr. Manoj Yenewwar Mr. Harsh Vaghasiya
-
EDP
Saksham-MSME Atmanirbharta - Panel Discussion
2021-22
Sep 18, 2021
Pune
157
0

Raju Varghse
Mr.H.P.Srivastava
Mr. Sanju Unni
Mr. Amay Phadake
Mr. Pramod Jain

9
Lexicon Centre of MSME Excellence -A unit of Lexicon Management Institute of Leadership and Excellence , Pune
Dr. Raju Varghese Mr. Sanju Unni Mr. Manoj Yenewwar Mr. Harsh Vaghasiya
Hadapsar Industries Association (HIA)
EDP
Development of MSME industries in Hadapsar and Ramtekadi
2021-22
19-11-2021
Pune Gas Pvt. Ltd, Hadapsar, Pune
43
0

Jaisinh sampat
Mr.Mohan Nair
Mr. Sanju Unni

10
Lexicon Management Institute of Leadeíship and Excellence
Mr. Nasir Shaikh
Rising Star Outreach of India
EDP
EDP on From alumni to Ambassador
2021-22
2021
Hadapsar and Ramtekdi, Pune,
9
0
-
11
Lexicon Centre of MSME Excellence -A unit of Lexicon Management Institute of Leadership and Excellence , Pune
Dr. Raju Varghese Mr. Sanju Unni Mr. Manoj Yenewwar Mr. Harsh Vaghasiya
V Squre Beverages, Pune
EDP
EDP part of consultation charges
2021-22
01.04.2022
Pune
6
0
-
12
Lexicon Centre of MSME Excellence -A unit of Lexicon Management Institute of Leadership and Excellence , Pune
Dr. Raju Varghese Mr. Sanju Unni Mr. Manoj Yenewwar Mr. Harsh Vaghasiya
Coffee Max Beverages, Pune
EDP
EDP on part of consultation charges
2021-22
01.04.2022
Pune
8
0
-
13
Lexicon Centre of MSME Excellence -A unit of Lexicon Management Institute of Leadership and Excellence , Pune
Dr. Raju Varghese Mr. Sanju Unni Mr. Manoj Yenewwar Mr. Harsh Vaghasiya
Deccan Chamber of Commerce Industries, Pune and APOHAN, Pune
EDP
EDP on Grow your business 5X
2021-22
07-12-2022
Lexicon School Auditorium, Wagholi, Pune
14
0
1) Shailesh Waghmare 2) Mr.H.P.Srivastava 3)Mr. Sanju Unni
14
Lexicon Centre of MSME Excellence -A unit of Lexicon Management Institute of Leadership and Excellence , Pune
Dr. Raju Varghese Mr. Sanju Unni Mr. Manoj Yenewwar Mr. Harsh Vaghasiya
Aarambh, ENCOSYM and GIBF
EDP
EDP on how to save on your electricity bills
2021-22
15-12-2022
Kunal Plaza, Chinchwad, Pune
40
0

Ms. Neelkamal Anachal
Mr.Abhay Athalye
Mr. Sanju Unni

15
Lexicon Centre of MSME Excellence -A unit of Lexicon Management Institute of Leadership and Excellence , Pune
Dr. Raju Varghese Mr. Sanju Unni Mr. Manoj Yenewwar Mr. Harsh Vaghasiya
Laghu Udyog Bharti
EDP
EDP on Finance for non - finance
2021-22
08-02-2022
MCCAI Hall, Bhoasari, Pune
85
0

Mr. Pramod Jain
Mr. Deepak Phalle
Mr. Sanju Unni
Mr. Rahul Khole
Mr. Pratap Jadhav

16
Lexicon Centre of MSME Excellence -A unit of Lexicon Management Institute of Leadership and Excellence , Pune
Dr. Raju Varghese Mr. Sanju Unni Mr. Manoj Yenewwar Mr. Harsh Vaghasiya
-
EDP
EDP on HR for Non HR
2021-22
10-08-2022
Pune
45
0
-
17
Lexicon Centre of MSME Excellence -A unit of Lexicon Management Institute of Leadership and Excellence , Pune
Dr. Raju Varghese Mr. Sanju Unni Mr. Manoj Yenewwar Mr. Harsh Vaghasiya
-
EDP
EDP on NLP programme for Sustainable Business Growth
2021-22
25-05-2022
Lexicon MILE, Wagholi, Pune
25
0

Mr. Amarendra Chitale
Mr.H.P.Srivastava
Mr. Sanju Unni

18
Lexicon Centre of MSME Excellence -A unit of Lexicon Management Institute of Leadership and Excellence , Pune
Dr. Raju Varghese Mr. Sanju Unni Mr. Manoj Yenewwar Mr. Harsh Vaghasiya
DCCIA Pune
EDP
EDP on Business opportunities in Defence Sector
2021-22
03-06-2022
Lexicon MILE, Wagholi, Pune
16
0

Mr. Mandar Lele
Mr. H.P.Srivastava
Mr. Sanju Unni

19
Lexicon Centre of MSME Excellence -A unit of Lexicon Management Institute of Leadership and Excellence , Pune
Dr. Raju Varghese Mr. Sanju Unni Mr. Manoj Yenewwar Mr. Harsh Vaghasiya
Pune Gas & DCCIA Pune
EDP
EDP on Cutdown electricity consumption up to 50% understand the concept of clean heat
2021-22
17-11-2022
Lexicon MILE, Wagholi, Pune
25
0

Jesal Sampath
Mr.Rathin Sinha
Mr. Sanju Unni

20
Lexicon Centre of MSME Excellence -A unit of Lexicon Management Institute of Leadership and Excellence , Pune
Dr. Raju Varghese Mr. Sanju Unni Mr. Manoj Yenewwar Mr. Harsh Vaghasiya
-
EDP
Trainer on Behavioral Management
2021-22
21 April 2022
Lexicon MILE, Wagholi, Pune
22
60000
Dr. Swati Manoj Yeole
21
Lexicon Centre of MSME Excellence -A unit of Lexicon Management Institute of Leadership and Excellence , Pune
Dr. Raju Varghese Mr. Sanju Unni Mr. Manoj Yenewwar Mr. Harsh Vaghasiya
-
MDP
MDP on Training Programme on Business Process Improvement, Conducted training on Team management and personality Grooming, Cost management system through the case study method. Marketing Concept for Engineers - Sustainablity and ESG
2021-22
2021-22
Pune
21
21000
-
FDP / MDP / EDP Attended (Jan 2019 to Jan 2023)
S. No
Name of
Year
Details of FDP / MDP / EDP including Theme, Venue, Organiser
Enclosures
1
Swati Chaudhary
2023
Research workshop " Research Kaleidoscope" organised by Unique Institute of Management, Pune
Certificate
2
Harsh Lazarus
2023
Universal Human Values - FDP - AICTE
Certificate
3
Swati Chaudhary
2022

Learning and Development conclave "Reflections and the future of Learning and Development" organisesd by Lexicon MILE Pune

Certificate
4
Dr.Mayadevi Jadhav
2022
One-week FDP on Quantitative Research with IBM SPSS" organized by the Department of MBA, Sanjivani College of Engineering, Kopargaon (An Autonomous Institute) in association with Rotary Club of Kopargaon Central from 26th to 30th September 2022 in virtual mode.
Certificate
5
Prof.Kavita Pareek
2022
One-week Faculty Development Program on Quantitative Research with IBM SPSS" organized by Department of MBA, Sanjivani College of Engineering, Kopargaon (An Autonomous Institute) in association with Rotary Club of Kopargaon Central from 26th to 30th September 2022 in virtual mode.
Certificate
6
Dr. Lambodar Saha
2022
Learning & Development Conclave (MDP)
Certificate
7
Dr. Lambodar Saha
2022
Sustainability & ESG (Environmental, Social & Governance)
Certificate
8
Swati Chaudhary
2022
MDP Sustainability - Environment, Social & Governance (ESG) organisesd by Lexicon MILE Pune
Certificate
9
Dr. Vineeta Agrawal
2022
Application Of Statistical Techniques In Real World
Certificate
10
Dr. Anshuman Magar
2022
Ethics and Values in Higher Education - MSFDA
Certificate
11
Dr. Anshuman Magar
2022
Emerging trends in the field of Information Technology Organised by ICS College Ratnagiri
Certificate
12
Dr. Anshuman Magar
2022
Implementation of NEP 2020 - Opportunities and Challenges Organised by RUSA Maharashtra and CKT College Panvel and
Certificate
13
Prof. Rachana Pulgam
2022
ALL INDIA COUNCIL FOR TECHNICAL EDUCATION (AICTE)-Inculcating Universal Human Values in Technical Education"
Certificate
14
Dr. Vineeta Agrawal
2021
Advanced Pedagogical: Techniques
Certificate
15
Dr. Vineeta Agrawal
2021
Leadership And Excellence"
Certificate
16
Dr. Vineeta Agrawal
2021
Development And Implementation Of Moocs
Certificate
17
Dr. Vineeta Agrawal
2021
Case Writing Workshop
Certificate
18
Dr. Vineeta Agrawal
2021
Research Methodology, Nagpur
Certificate
19
Dr.Mayadevi Jadhav
2021
Three Days SPSS - Master Workshop organized by COMMCAD 26,27,28th March 2021
Certificate
20
Prof. Rachana Pulgam
2021
AICTE Training And Learning (ATAL) Academy, 13th September 2021 to 17thSeptember 2021. NEP 2020: Implementation for Quality Education"
Certificate
21
Dr.Mayadevi Jadhav
2020
Seven Days e-FDP on NAAC Accreditation" organized by Dnyansagar Institute of Management & Research, Pune in association with EduMentor, from July 21, 2020 to July 27, 2020.
Certificate
22
Dr. Anshuman Magar
2020
Empowerment through digital technology and E-Learning by SNDT University Mumbai
Certificate
23
Prof.Kavita Pareek
2020
One day e-FDP' on MBA CBCS & GS, OBE Pattern in Organisation and Management Board for SEM-III, organised by Dnyansagar Institute of Management & Research in association with Savitribai Phule Pune University on 31st July 2020.
Certificate
24
Prof.Kavita Pareek
2020
Seven Days e-FDP on NAAC Accreditation" organized by Dnyansagar Institute of Management & Research, Pune in association with EduMentor, from July 21, 2020 to July 27, 2020.
Certificate
25
Prof.Kavita Pareek
2020
One week FDP "How to enrich Online Learning: Keys and Challenges."organised by IQAC cell of Vishwakarma college of ACS, Pune from 7th July to 11th July 2020.
Certificate
26
Prof.Kavita Pareek
2020
Training Programme on Restructured Syllabus of Accountancy' held by the Board of Studies in Accountancy, Savitribai Phule Pune University on 10 July 2020.
Certificate
27
Prof.Kavita Pareek
2020
One day Faculty Development Programme on ICT tools for Online Teaching" organized by Sanjivani College of Engineering, Dept. of MBA, Kopargaon on 6/4/2020,
Certificate
28
Prof. Rachana Pulgam
2020
The Scenario Of Commerce, Management And Economics After Covid-19" sponsored by MHRDC's Faculty Development Centre, UGC and Savitribai Phule Pune University, 29/06/2020 to 08/07/2020
Certificate
29
Prof. Rachana Pulgam
2020
E-Content Development For Teaching And Learning" at Arihant College Of Arts, Science And Commerce, Pune, 8 th June 2020 to 13th June 2020
Certificate
30
Prof. Rachana Pulgam
2020
Online Teaching And E-Content Development" atS. K. Somaiya college and IIDE, Mumbai, 11th and 12th June 2020
Certificate
31
Prof. Rachana Pulgam
2020
Future Of Learning" at RV Institute of Management, Bangalore, 27th May 2020 to 29th May 2020
Certificate
32
Prof. Rachana Pulgam
2020
Research Methodology With Hands On Research Paper Writing" at Sage university, Indore, 1 st June to 5 th June, 2020
Certificate
33
Prof. Rachana Pulgam
2020
Effective Techniques Of Teaching And E-Commerce" at SES's Saraswati Institute of Technology, Mumbai, 1 st June to 5 th June, 2020
Certificate
34
Swati Chaudhary
2020
FDP Teaching and leadership through Whole Brain Thinking" conducted by WOW factors India pvt. Ltd., organised by DAV Centenary College, Faridabad
Certificate
LEXIPEDIA (Print ISSN 2321-6964) is a peer-reviewed annual journal that publishes full-length research papers. It is to enhance the dissemination of knowledge across the multidisciplinary community. We welcome research articles, review articles, case studies, academic project works, scholarly articles, academic articles, opinion from all the disciplines of Social Sciences, Humanities and Management from the view points in the advancement of research.
The journalaimsatacademicians,consultants,policymakers,businessmanagersandpractitioners to publish research work of multiple disciplines. The journal is committed to promote researchers with superfluity of understanding to engender new ideas, problem solving models, and disseminate the experiential world class research findings for the benefit of academia, industry, and policymakers.
The scope of the journal includes but is not limited to the following subjects:
Management,Organizationbehavior,Marketingmanagement,HumanResources
Psychology, Human ideology, Sociology, Organizationpsychology
RuralIndia,Statistics,SocialSciences,LibraryInformationScience
Law,CorporateLaw,IntellectualPropertyRights,IndustrialLaws,PoliticalScience
Geography, History, Journalism, Literature,Philosophy
Accountings,Finance,ManagementAccounting,FinancialAccounting
Economics, Education, HomeScience
Business,CommerceandCorporateGovernance
The above areas are just indicative and the editors, in principle, welcome rigorous articles thatencompass any quality research and compilation articles in the social and human sciences.
The Review Procedure
"Peer review is the process by which the journal scrutinize and regulate the quality of content we publish, by inviting experts in the field to review and comment on manuscripts received. Manuscripts submitted to a journal first go through an initial screening by the editorial team. Those that clear the screening are sent to at least two experts for peer review. Peer reviewers independently makea recommendation to the journal editor as to whether the manuscript should be rejected or accepted (with or without revisions). The journal editor-in-chief considers all the feedback from peer reviewers and makes an informed decision to acceptor reject the manuscript.
Current Editorial Team
| Sr. No. | Name and Designation on the Board | Area of Experience | Professional Designation | Contact Details |
| --- | --- | --- | --- | --- |
| 1 | Dr. Jitender Kumar Sharma, Editor-in-Chief | Marketing | Director | jitender.sharma@mile.education |
| 2 | Dr. VineetaAgrawal,Co-Editor | Finance | Faculty | vineeta.agarwal@mile.education |
| 3 | Dr. Swati Yeole, Associate Editor | Human Resource | Faculty | swati.yeole@mile.education |
| 4 | Mrs. PratibhaMandage, Editorial Assistant | Library | Head Library | librarian@mile.education |
Editorial Advisory Board
| Sr. No. | Name and Designation on the Board | Area of Experience | Professional Designation | Contact Details |
| --- | --- | --- | --- | --- |
| 1 | Prof. Raju Varghese, Member | Marketing | Faculty | raju.varghese@mile.education |
| 2 | Ms. FarheenBelgaumwala, Member | Human Resource | Faculty | farheen.belgaumwala@gmail.com |
| 3 | Dr. KashmiraLonkar, Member | Law | Faculty | kashmira.lonkar@mile.education |
| 4 | Dr. DevidasGolhar, Member | Human Resource | Principal (External) | devidasgolhar@gmail.com |
| 5 | Dr. Brigadier Ranbir Bhatia, Member | Human Resource | Corporate Trainer & Consultant (External) | ranbirbhatia@gmail.com |
| 6 | Prof. PrashantUbarhande, Member | Finance | Faculty (External) | ubarhande.prashant@gmail.com |
| 7 | Ms. GeetaVishwakarma, Member | Education | Faculty (External) | Geetavishwakarma@mile.education |
LIST OF ARTICALS PUBLISHED (Jan 2019 to Jan 2023)
S.No
Name of the Author
Co-Author (if any)
Tittle of Articals
Year of publication
Name of the Journal / Magazine
Hyperlink
1
Ms. Tarana Agrawal
-
The Power of Celebrity in Endorsing
2022
Pune Management Association
shorturl.at/hqxGM
2
Dr. Vineeta Agarwal
-
New Oil of Digital Era
2022
Pune Management Association
shorturl.at/hqxGM
3
Ms. Tarana Agrawal
-
Talent vs Attitude
2022
Pune Management Association
shorturl.at/hqxGM
4
Dr. Vineeta Agarwal
-
Online Classes & COVID -19: Experienc of Remote Learning from the Perspective of Students and Educators
2021
Kanpur Philosophers UGC CARE LISTED ISSN No.-2348-8301
shorturl.at/hqxGM
LIST OF CASE STUDIES PUBLISHED (Jan 2019 to Jan 2023)
| S.No | Name of the Author | Co-Author (if any) | Title of Case Study | Hyperlink | Date of publication (MM/YY) | Name of the Journal / Confarance with ISSN | Details of Conference/ Journal including Theme, Venue, Organiser, Publisher (as applicable) | Type of conference (National / International) | Enclosures |
| --- | --- | --- | --- | --- | --- | --- | --- | --- | --- |
| 1 | Dr. Swati Yeole | - | Sadhu ka Sapna Indian Market Apna | - | 2 3 February | Drushti Case Study Research Centre and | 2nd Prize in Case Study Competition | - | Certificate Trophy |
| 2 | Dr. Vineeta Agrawal | - | "Punjab Maharashtra Co-Operative Bank (PMC): | - | | Name of the Book - 'Anveshak – | International conference on Future | International | Certificate |
| 3 | Dr.Raju Varghese | - | Shoppers Orbit | - | | Jansons School of Business (JSB) | - | - | - |
| 4 | Dr. Swati Yeole | - | Acquisition of White Hat Jr.- Brand that deceased or | - | | Confarance Presentation | National Confarance Presentation, | - | - |
| 5 | Dr. Swati Yeole | - | A Case-Article On A Crying Neonate In The | - | | Modern Thamizh Research (A Quarterly | Modern Thamizh Research (A Quarterly | - | Print Copy |
| 6 | Dr. Swati Yeole | - | Eat me If You Can -A Case Study on Zomato | - | 2019 | Certificate Winner as II Runner up | Case Study Presented And Awarded At | - | Certificate |
| 7 | Prof. Tarana Agrawal | - | Case Study on Kota Talent Academy: Fighting The | - | 2022 | Modern Thamizh Research (A Quarterly | - | - | - |
| 8 | Prof. Tarana Agrawal | - | From Zero to Hero, Sri Siddhivinayak Agro Food Ltd.: A | - | 2022 | Participated In Celebrate Womanhood | - | - | - |
| 9 | Dr.Ganesh Waghmare | - | A case study on tactics for customer retention at | http://www.iaeme.c | 2021 | IAEME Journal | International Journal of Management | - | Link of the Journal |
| 10 | Dr.Raju Varghese | - | JKN Sintered Products (P) Ltd - Time fora Change? | Printed Journal | 2015 | Confederation of Indian Industry. | A Compedium of HR Case Studies by B- | - | Print Available |
WORKED AS GUEST LECTURER / RESOURCE PERSONS IN ACADEMIC AND INDUSTRY
(Jan 2019 to 2023)
S.No.
Name of Speaker
Date of Lecture / Training conducted
Name of Organiser with Venue
Date of event
Role / Position (Speaker / Chairperson)
Supportings- (Letter of invitation etc.)
1
Dr. Vineeta Agarwal
12.01.2023
Navsahyadri Group of Institutes, Pune
12.01.2023
Speaker
Letter
2
Dr. Vineeta Agarwal
14.05.2022
S.B.Patil institute, Pune
13 & 14.05.2022
Session Chair
Certificate
3
Dr. Vineeta Agarwal
29.04.2022
James Cook University, Singapore
29.04.2022
Speaker
Letter
4
Mr. Nishant Tyagi
21.02.2022
Rukminidevi College Delhi
21.02.2022
Speaker
Broucher
GUIDESHIP BY FACULTIES (Jan 2019 to Jan 2023)
S.No
Name of the Faculty Member
Institute
Course
Year
No of Students
Supportings- Copy of Guideship Letter issued
1
Prof. (Dr.) Jitender Kumar Sharma
JJTU University
Ph.D Co Guide
2019
0
Letter
2
Prof. Veena Sharma
LMILE
PGDM
2018-20, 2019- 21
45
-
3
Dr. Swati Yeole
LMILE
PGDM
2018-20, 2019- 21, 2020-22
60
-
4
Dr. Anuja Johari
LMILE
PGDM
2018-20, 2019- 21
45
-
5
Dr. Vineeta Agarwal
LMILE
PGDM
2018-20, 2019- 21, 2020-22
60
-
6
Prof. Amar P Narkhede
LMILE
PGDM
2018-20, 2019- 21
15
-
7
Prof. Kapil Kapdiya
LMILE
PGDM
2018-20, 2019- 21
45
-
8
Prof. Raju Varghese
LMILE
PGDM
2018-20, 2019- 21, 2020-22
45
-
9
Prof. Sandra Cruz
LMILE
PGDM
2018-20, 2019- 21
60
-
10
Dr. Lamboda Saha
LMILE
PGDM
2022
20
-
11
Dr. Lamboda Saha
LMILE
PGDM
2023
33
-
Membership of Professional Bodies (Jan 2019 to Jan 2023)
S.No.
Name of Faculty / Staff
Name of Professional Body
Role in Professional Body
Association with (from - till)
Enclousers
1
Lexicon MILE, Pune
Toastmasters International
Member
Lifetime
E mail
2
Lexicon MILE, Pune
"Deccan Chamber Of Commerce, Industries & Agriculture, Pune. (DCCIA)
Member
Lifetime
E mail
3
Mr. Nasir Shaikh
Poona Hoteliers Association - Pune
Member
Life Time
E mail
4
Mr. Nasir Shaikh
Centre for Education Growth and Research (CEGR)
Member
Life Time
E mail
5
Mr. Nasir Shaikh
National Restaurant Association of India (NRAI)
Member
Life Time
E mail
6
Mr. Nasir Shaikh
National Institute of Personnel Management (NIPM)
Member
Life Time
E mail
7
Dr. Jitedner Kumar Sharma
Pune Management Association
Member
1 year
E mail
8
Dr. Jitedner Kumar Sharma
International Economics Development Research Center (IEDRC)
Member
Lifetime
E mail
9
Dr. Raju Varghese
Pune Management Association
Member
Lifetime
E mail
10
Dr. Raju Varghese
Maharashtra Chambers of Commerce (MCCIA)
Member
Lifetime
E mail
11
Dr. Raju Varghese
"Deccan Chamber Of Commerce, Industries & Agriculture, Pune. (DCCIA)
Member
Lifetime
E mail
12
Parmeshwar Kawale
Pune Management Association
Member
1 year
E mail
13
Parmeshwar Kawale
Pune Hotelier Association
Member
1 year
E mail
14
Parmeshwar Kawale
All Indiam Councial for Technical Skill Development
Member
Lifetime
Certificate
15
Dr. Kashmira Lonkar
All Indiam Councial for Technical Skill Development
Member
Lifetime
Certificate
16
Dr. Kashmira Lonkar
Pune Management Association
Member
1 year
E mail
17
Dr. Kashmira Lonkar
All India Law Teacher Congress
Member
Lifetime
Certificate
18
Dr. Kashmira Lonkar
Lawyers Club India
Member
Lifetime
E mail
19
Dr. Lambodar Saha
MTC Global
Member
Life Time
E mail
20
Dr. Anshuman Magar
Edwin Group Journal
Editorial Board Member
Life Time
Certificate
21
Dr. Anshuman Magar
Indian Accounting Association, Thane Chapter
Member
Life Time
ID Card
22
Ms. Rachana Pulgam
Management Teacher's Consortium (MTC) Global
Life Time
Life Time
Certificate
23
Ms. Rachana Pulgam
Acadamic & Research Conclave
Life Time
Life Time
Certificate
24
Ms.Tarana Agrawal
Pune Management Association
Editorial Team of PMA Newsletter
Life Time
Certificate
25
Ms. Rachana Pulgam
Edwin Group Journal
Editorial Board Member
Life Time
Certificate
Awards Received (Jan 2019 to Jan 2023)
S.No.
Name of Staff / Faculty
Level of Award -National / International
Tittle of Award
Name of Organiser with Venue
Date of event
Enclousers
1
Dr. Swati Yeole
National
Smt. Kamal Sharma Award of Academic Excellence 2022
Lexicon Management Institute of Leadership and Excellence, Pune
2022
Photo
2
Mr. Parmeshwar Kawale
-
All India Survey of Higher Education
Ministry of HRD
2022
Certificate
3
Dr. Raju Varghese
National
Smt. Kamal Sharma Award of
Lexicon Management
2020
Certificate
4
Dr. Jitedner Kumar
National
Best Academician of the Year Award -
Center for education growth
2021
Certificate
5
Dr. Jitedner Kumar
National
Smt. Kamal Sharma Award of
Lexicon Management
2022
Certificate
6
Dr. Jitedner Kumar
National
Certificate of Appreciation
Lexicon Management
2021
Certificate
7
Dr. Jitedner Kumar
National
Colleague of the Month
Lexicon Management
2020
Certificate
8
Dr. Raju Varghese
National
Best Academician of the Year Award -
Center for education growth
2021
Certificate
Faculty appointment by other University / College / Institutes in BOS, BOE, BOA, Quality
(Jan 2019 to Jan 2023)
S.No.
Name of the faculty
Programme
Name University / College
Tenure
Position
Enclosure
1
Dr. Lambodar Saha
BOS
St. Aloysius College (Autonomous), Jabalpur
3 Yrs (2022-25)
BOS Member
Letter
2
Mr. Parmeshwar Kawale
BOE
SPPU
-
Member
Letter
3
Dr. Mayadevi jadhav
BOE
SPPU
4 Yrs (2019-22)
Chairman, Member
Letter
4
Prof. Rachana Pulgam
BOE
SPPU
2020-2023
Paper Setter
Letter
5
Dr. Swati Yeole
BOE
Indira Institute of Management, Pune
2023
Paper Setter
Letter
6
Dr.Ganesh Waghmare
BOS
MIT ADT University Loni, Pune
2023
Member
E- Mail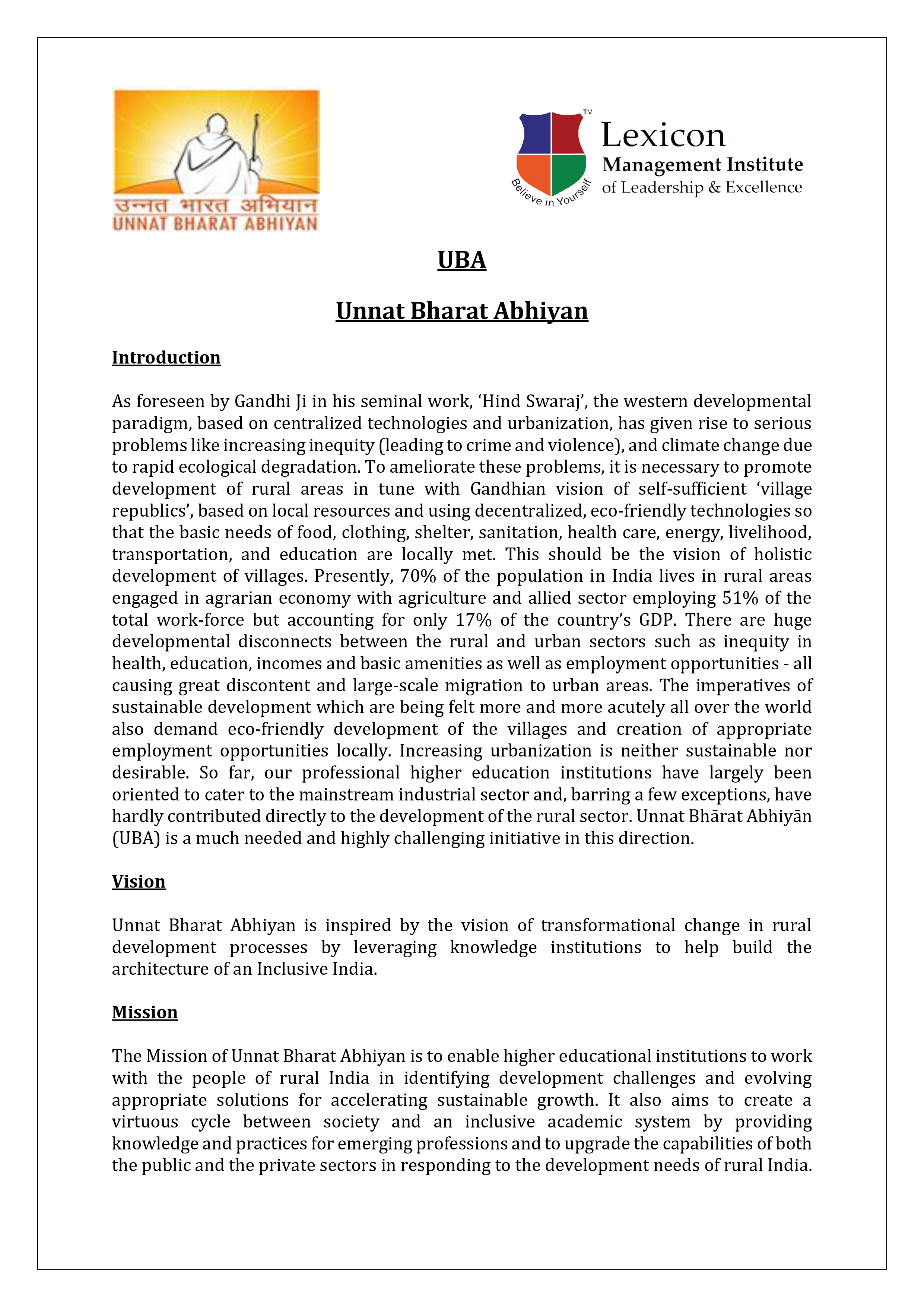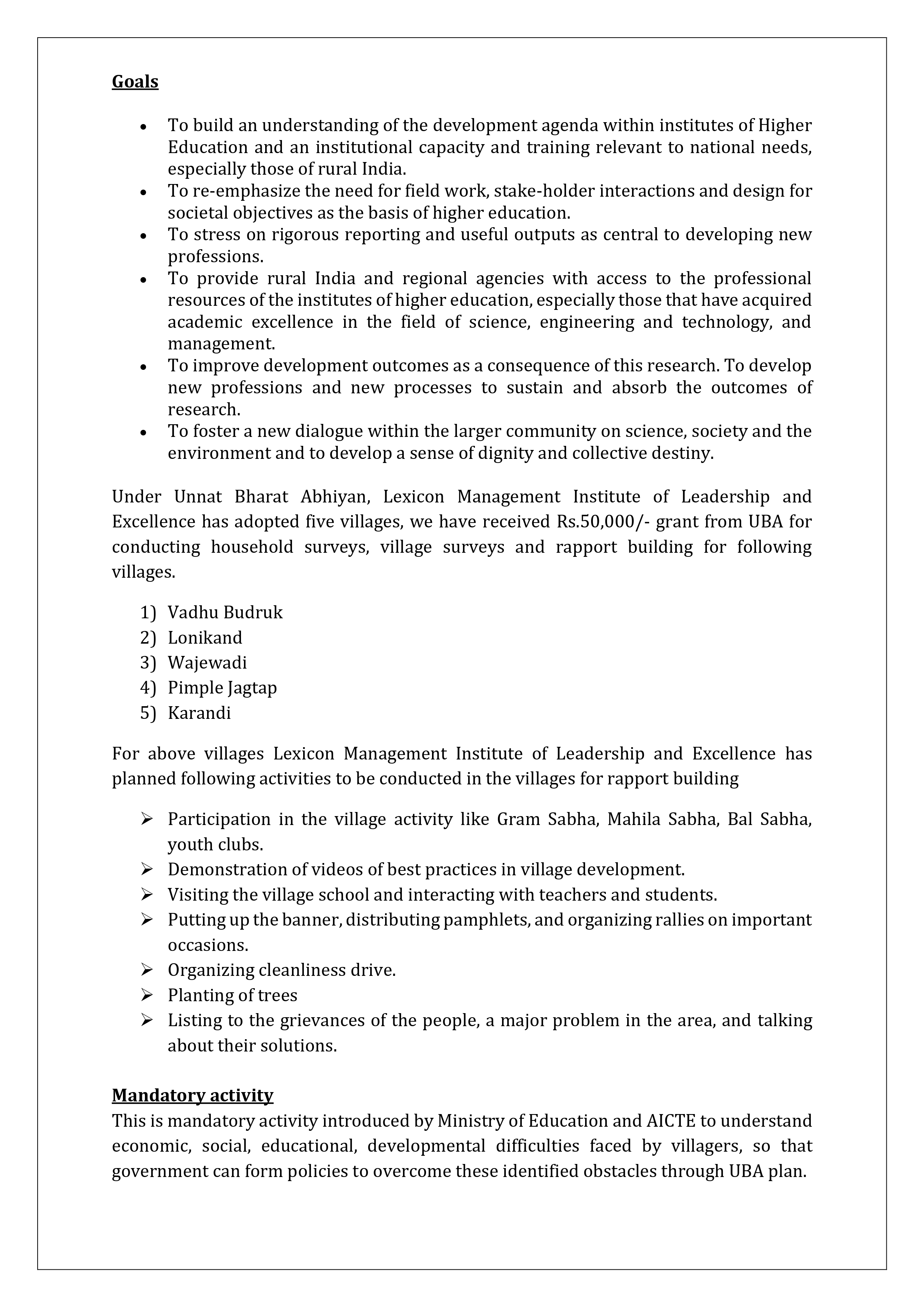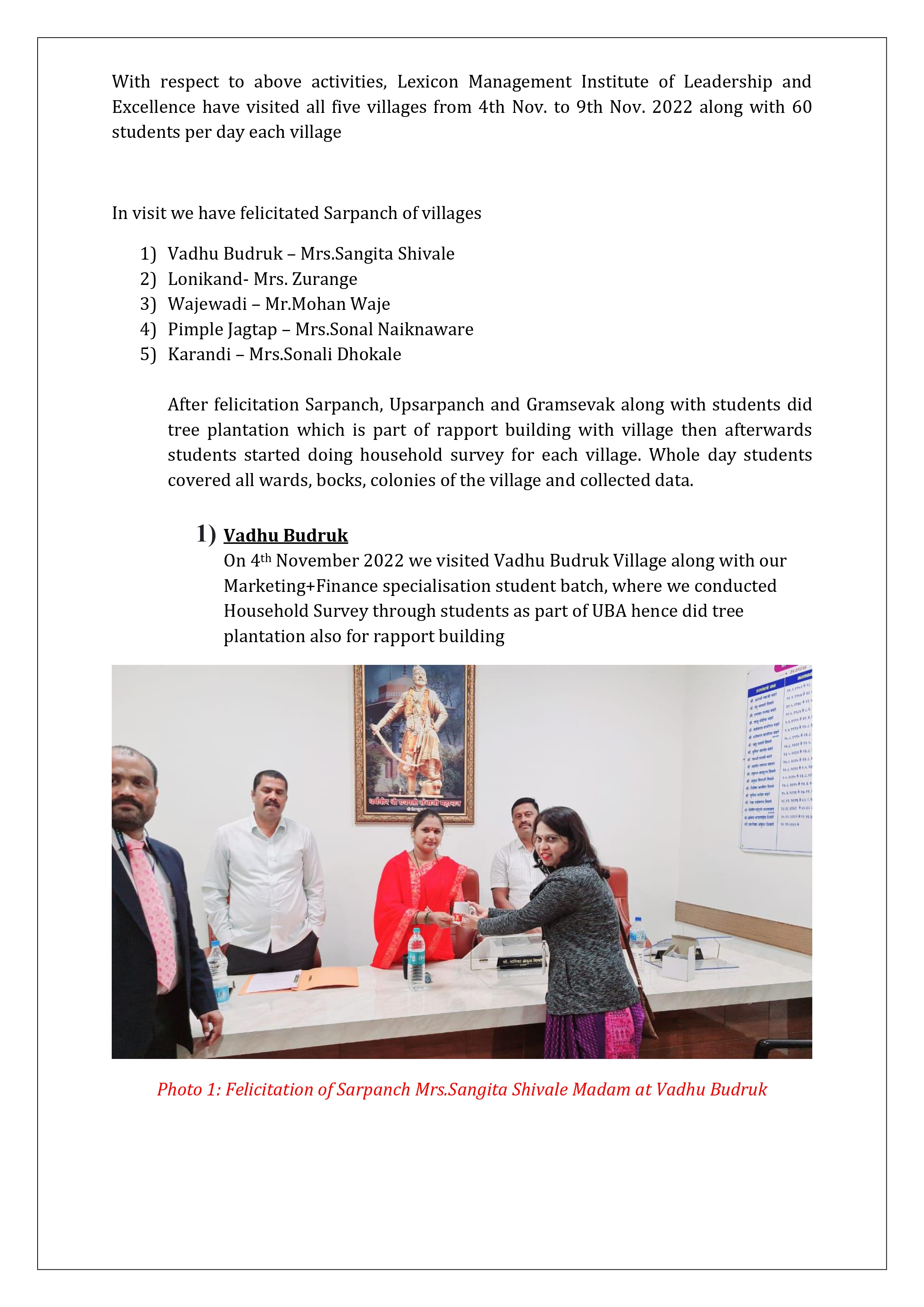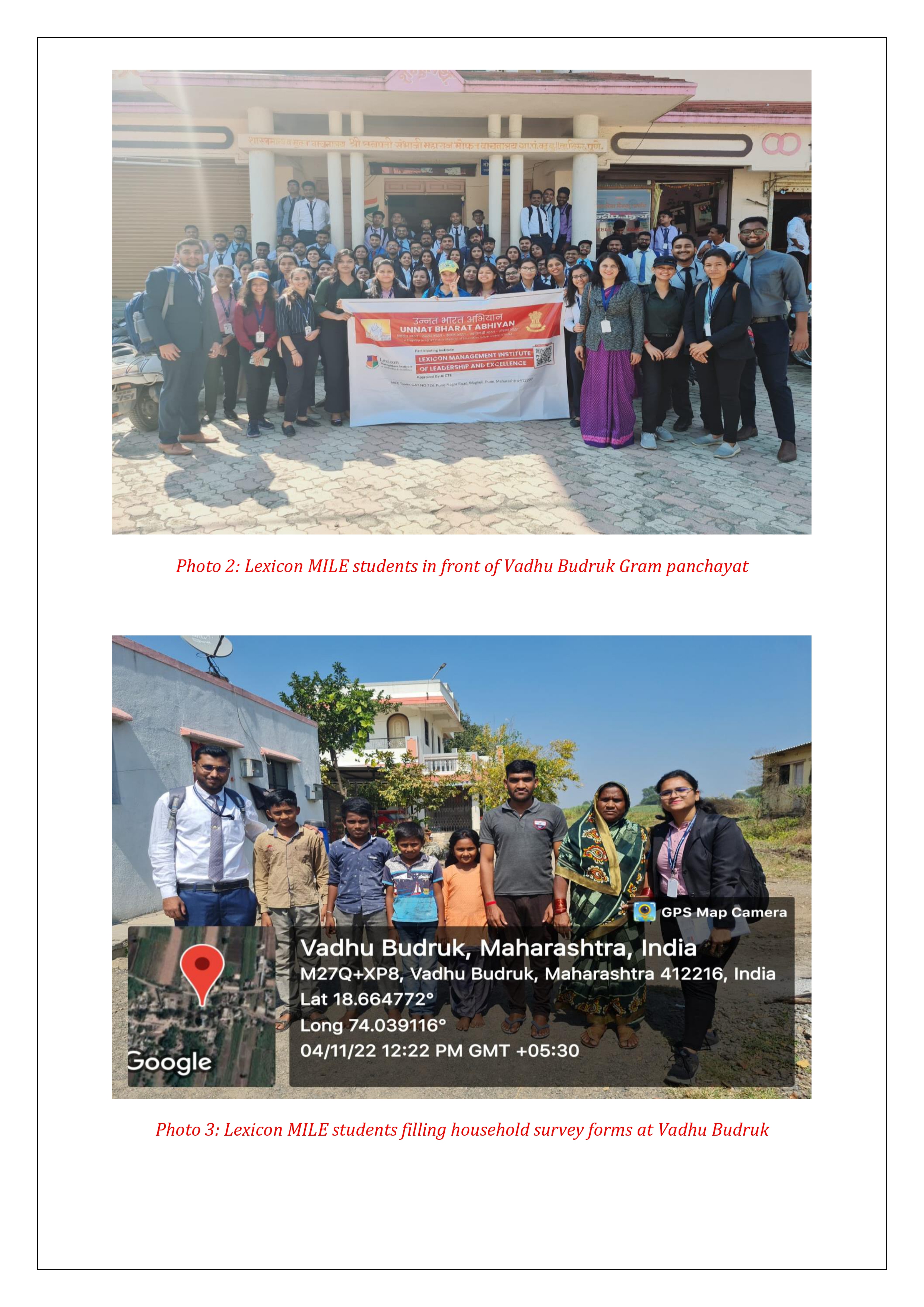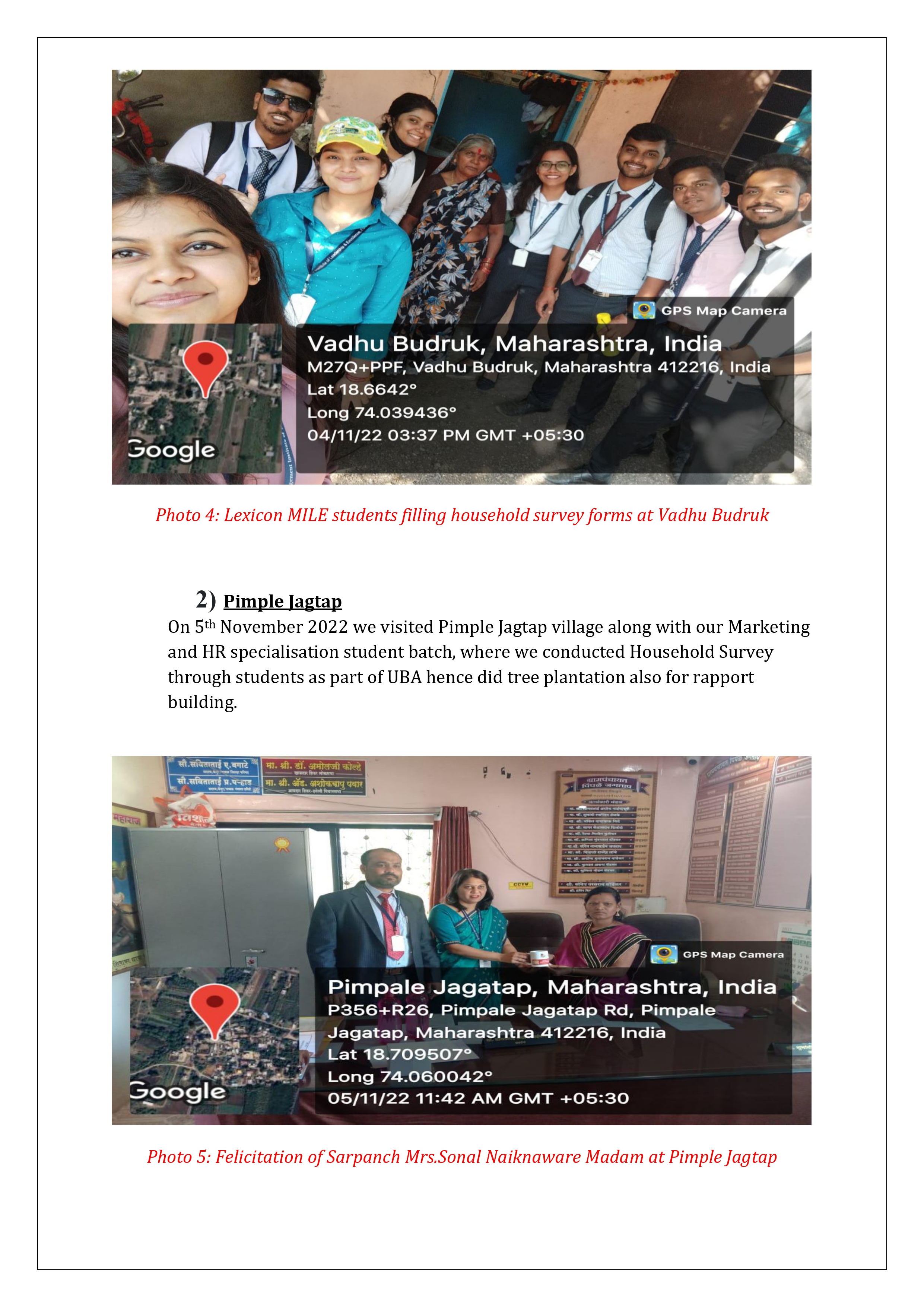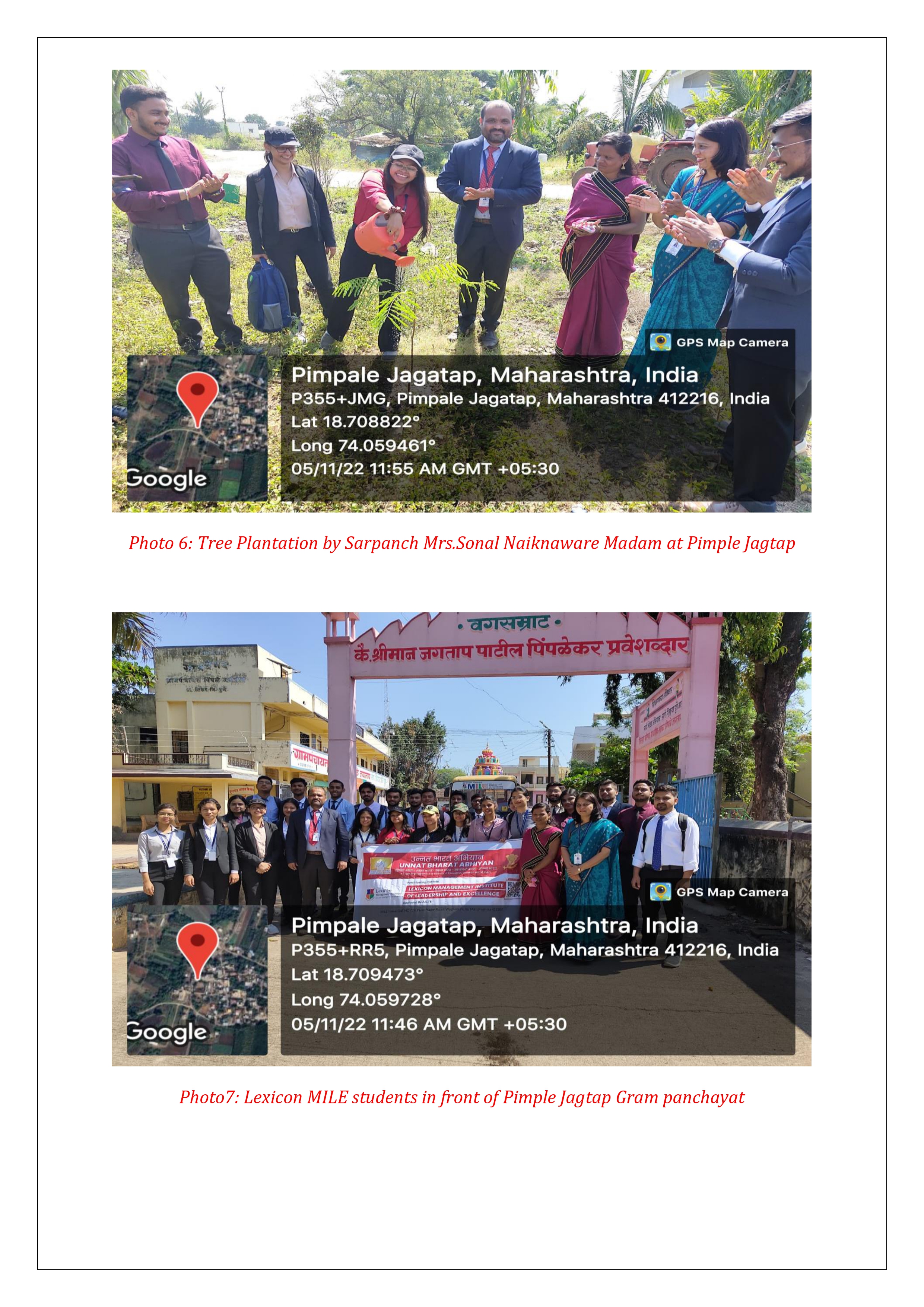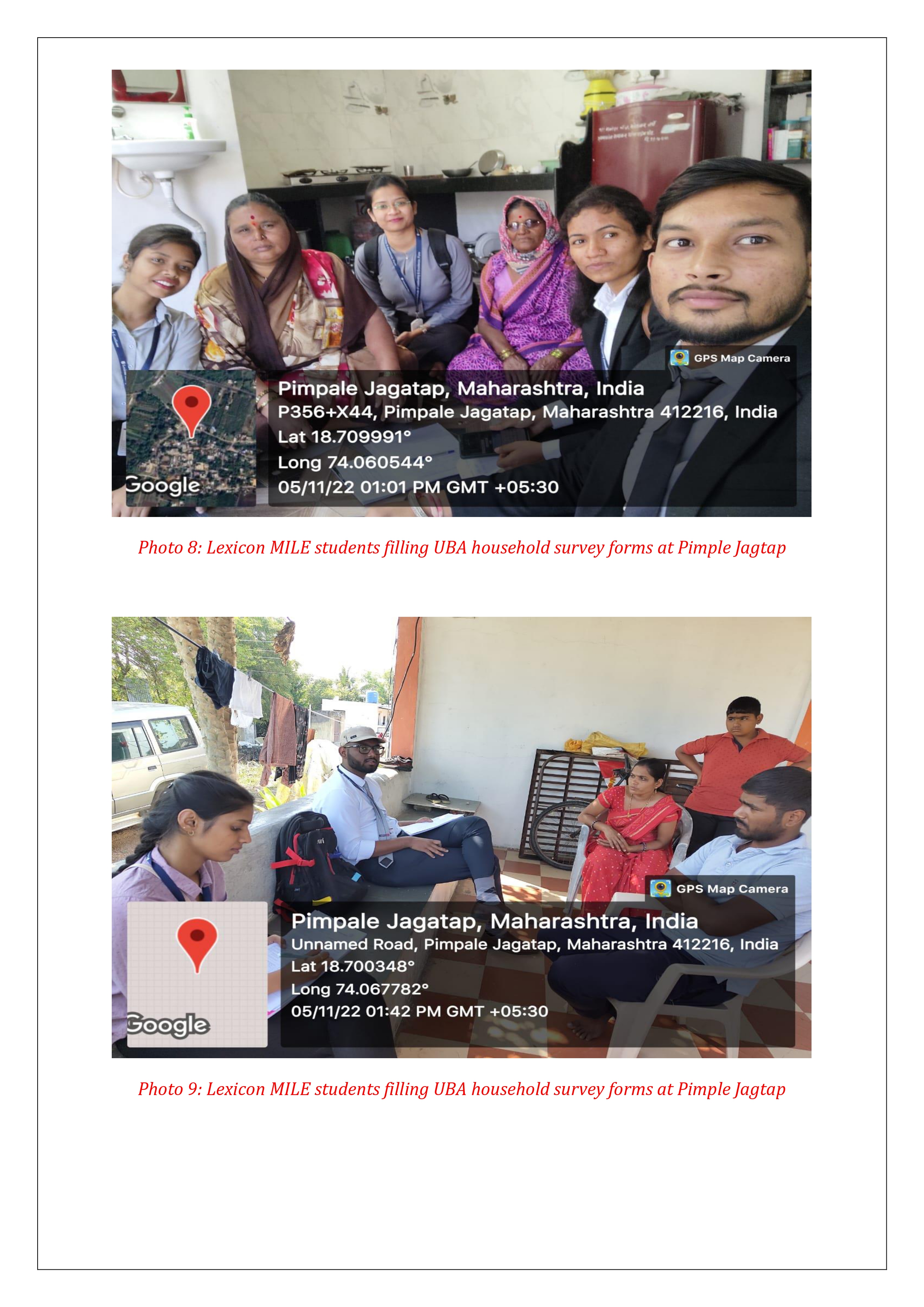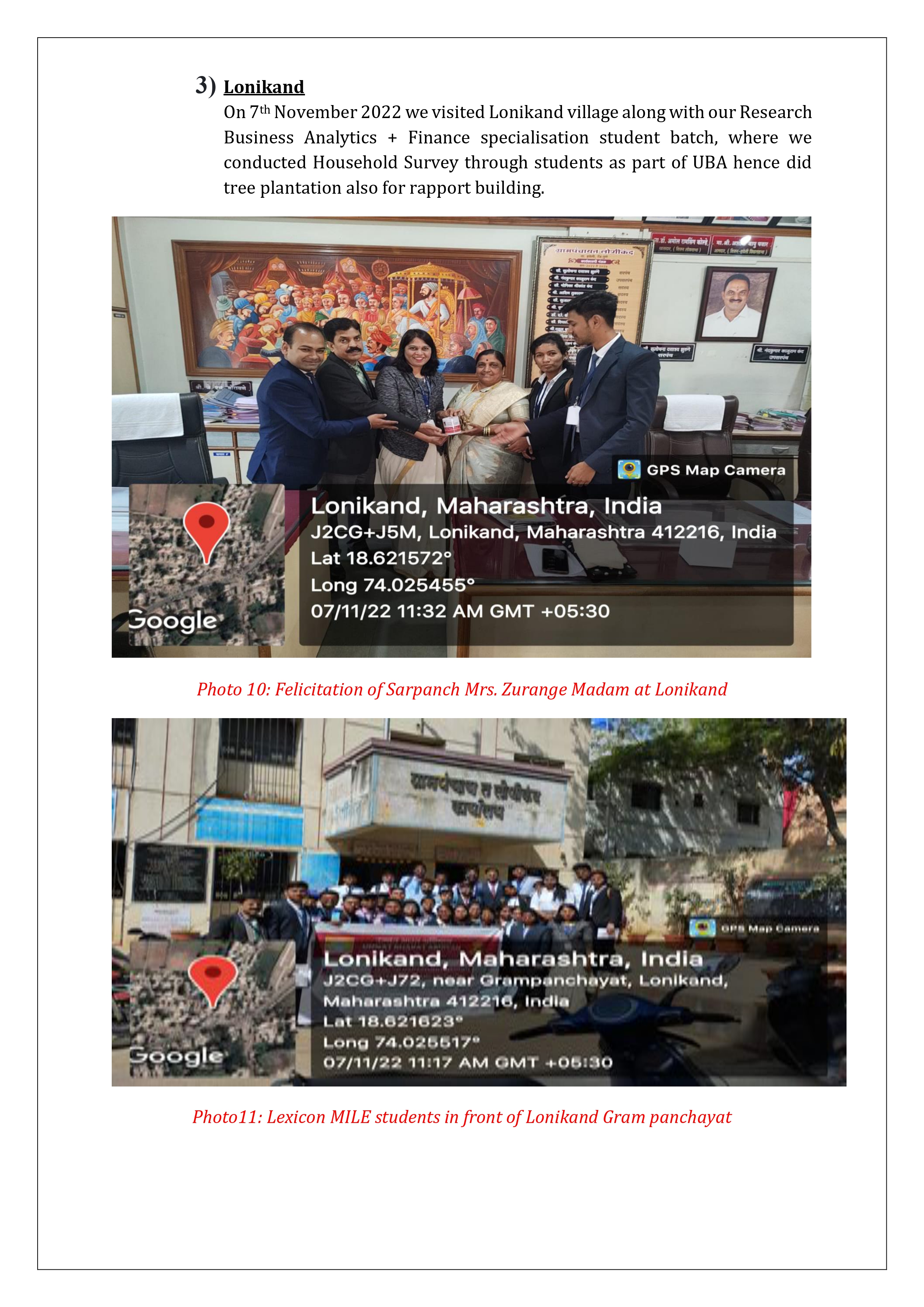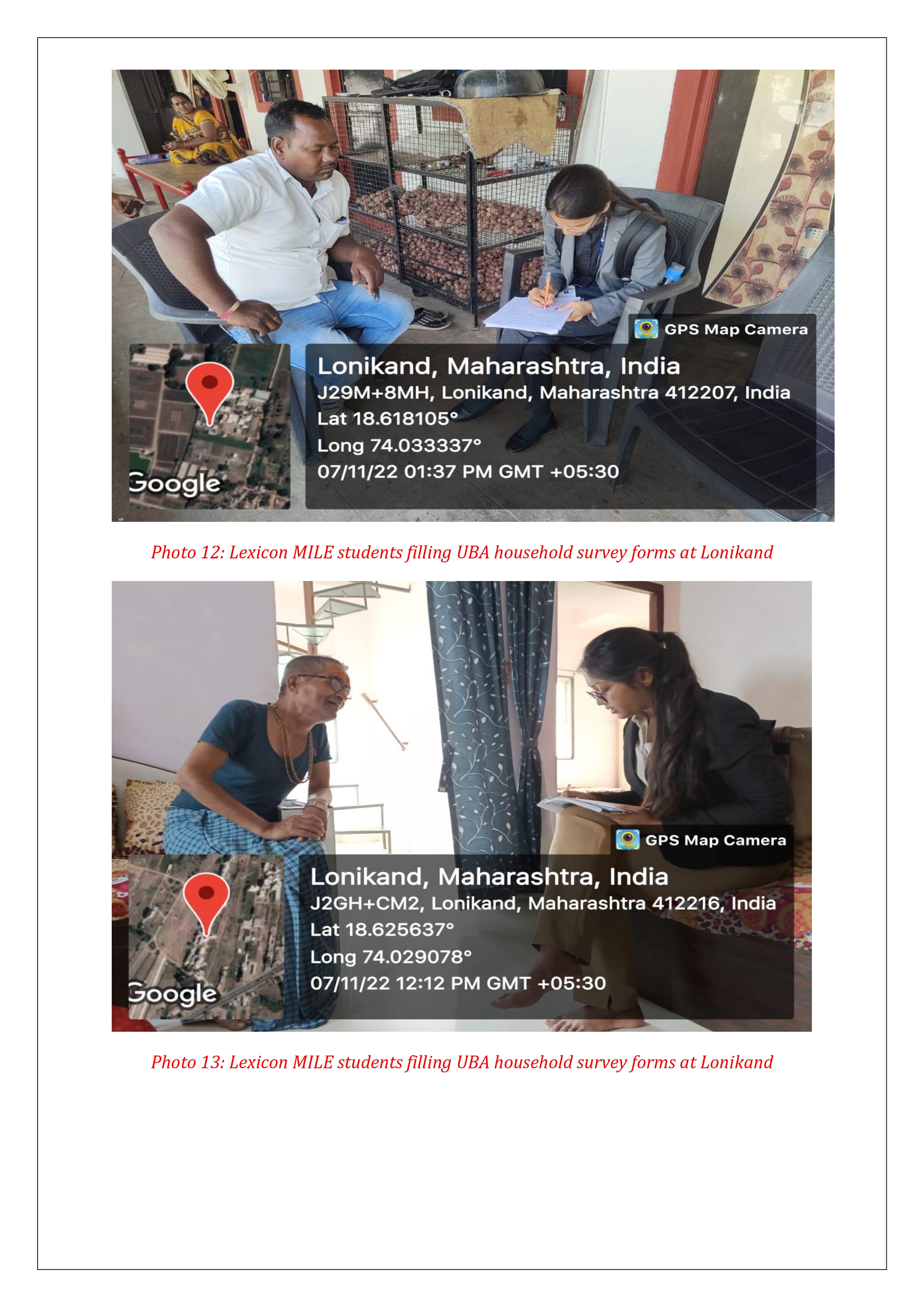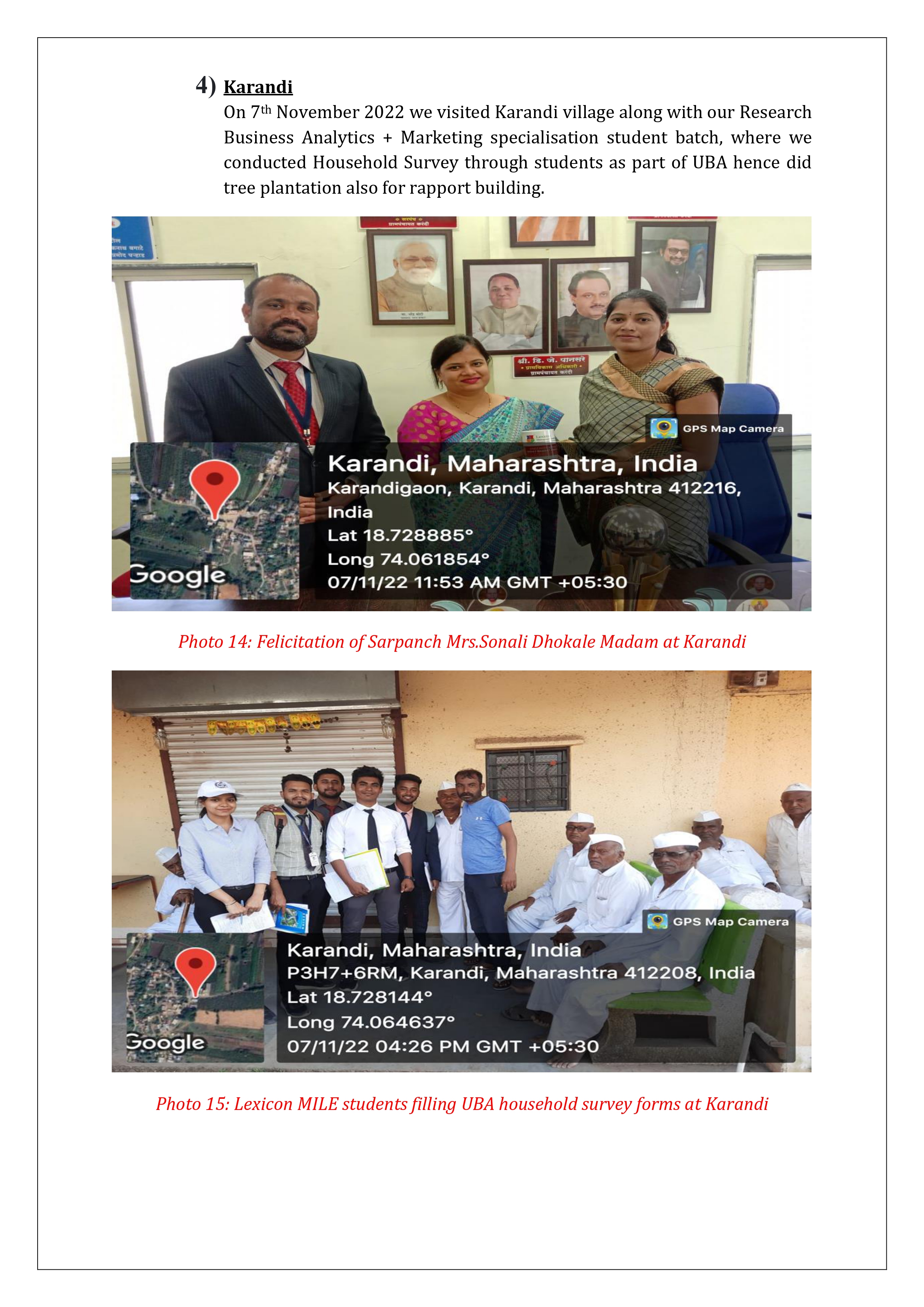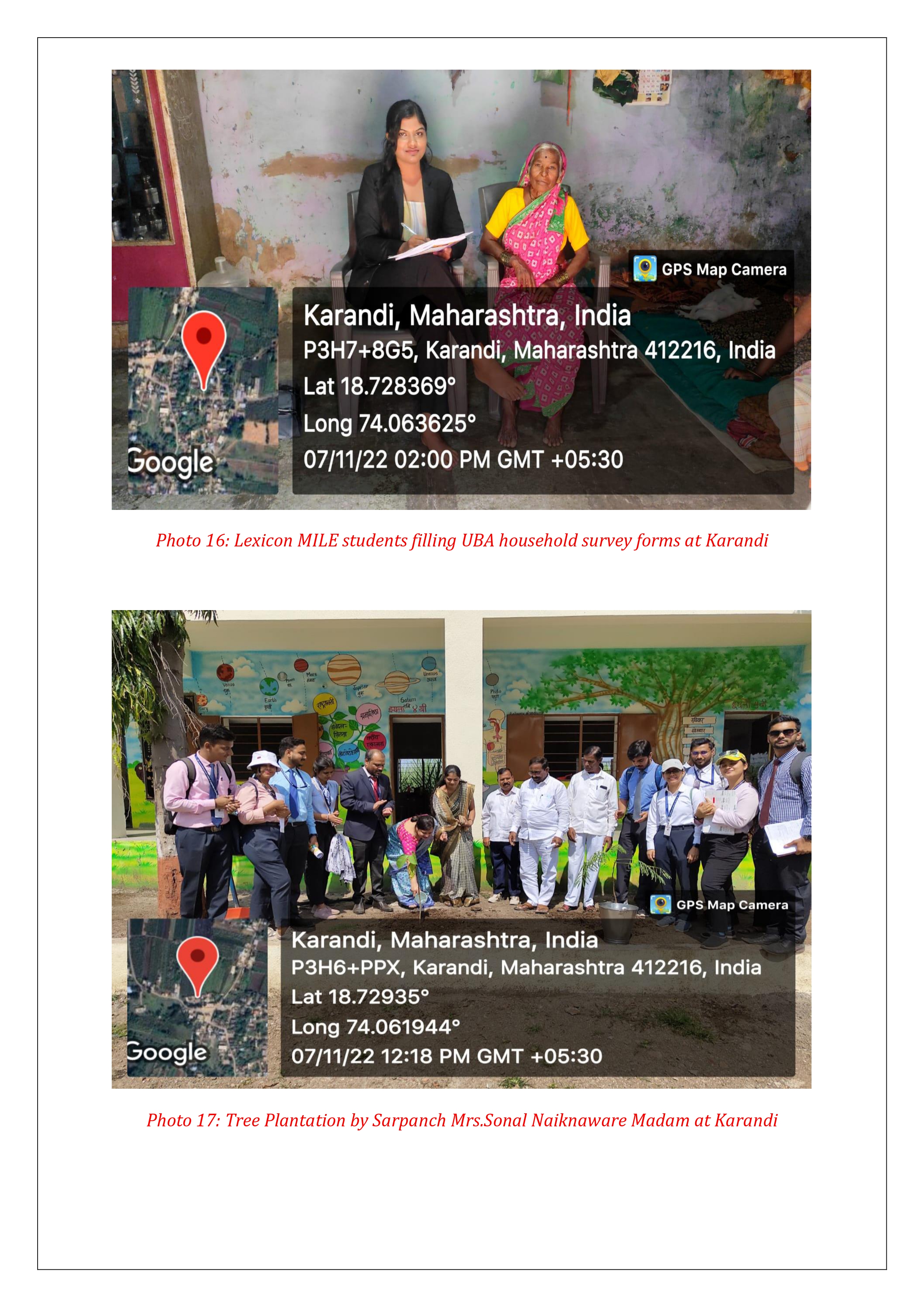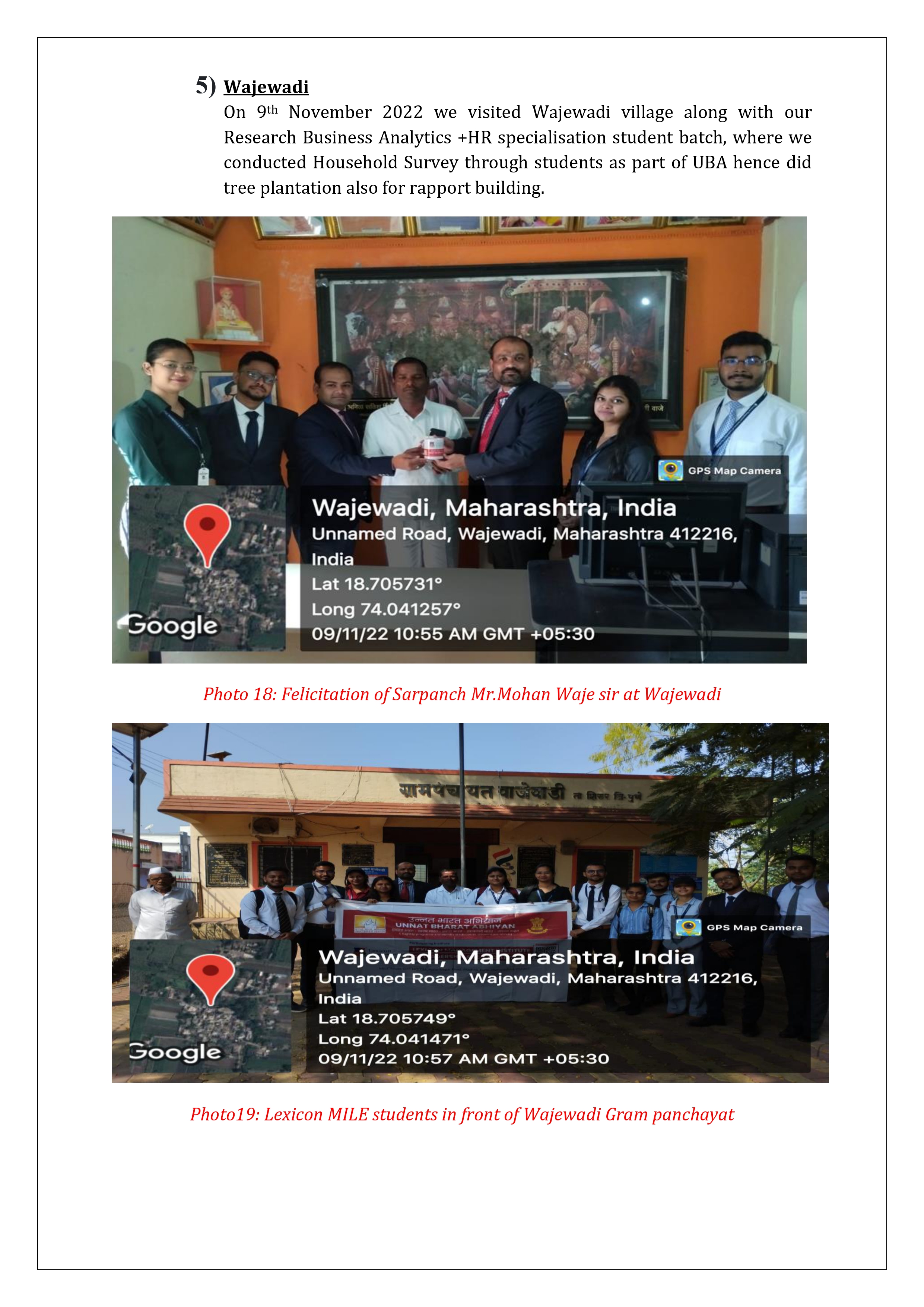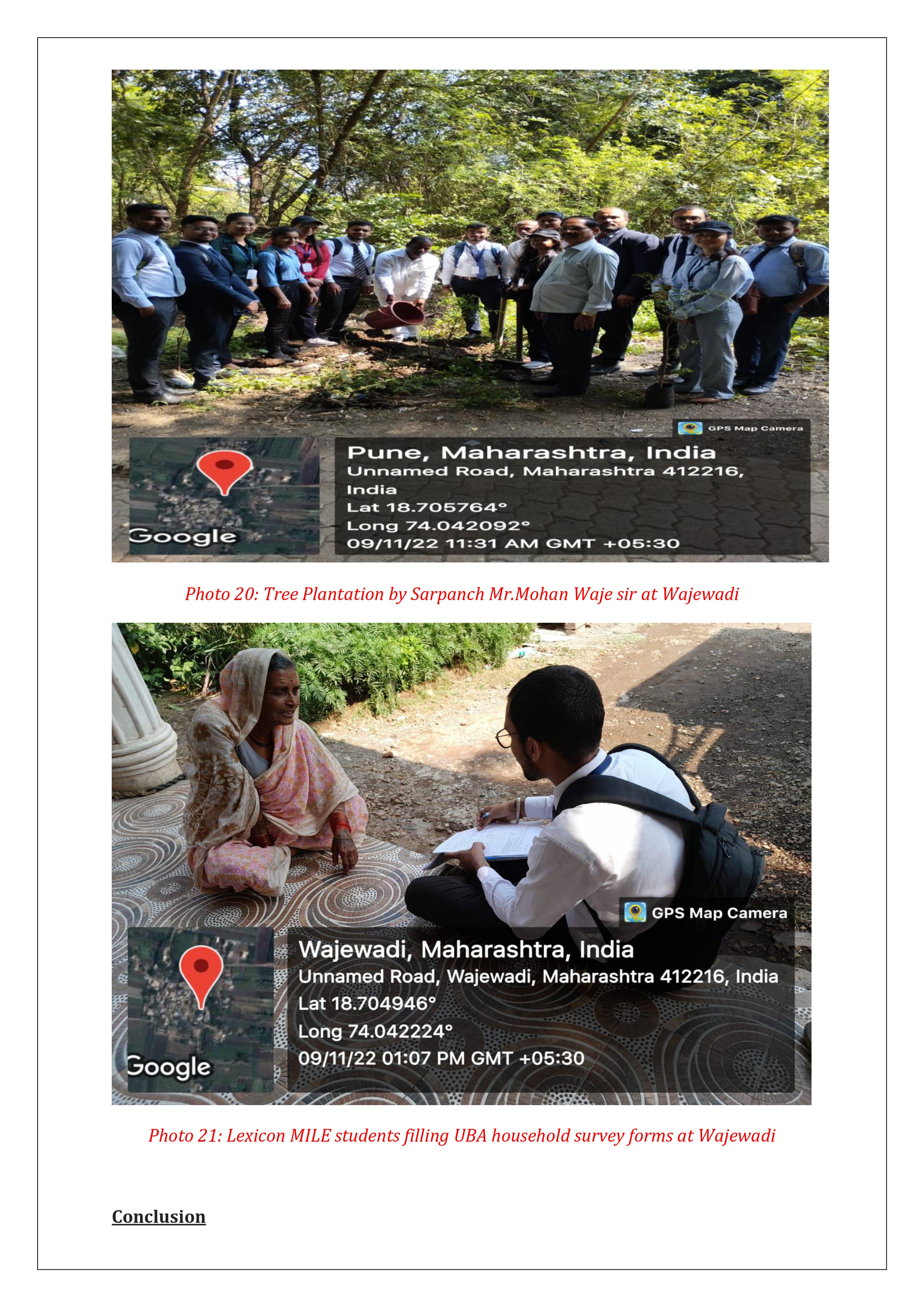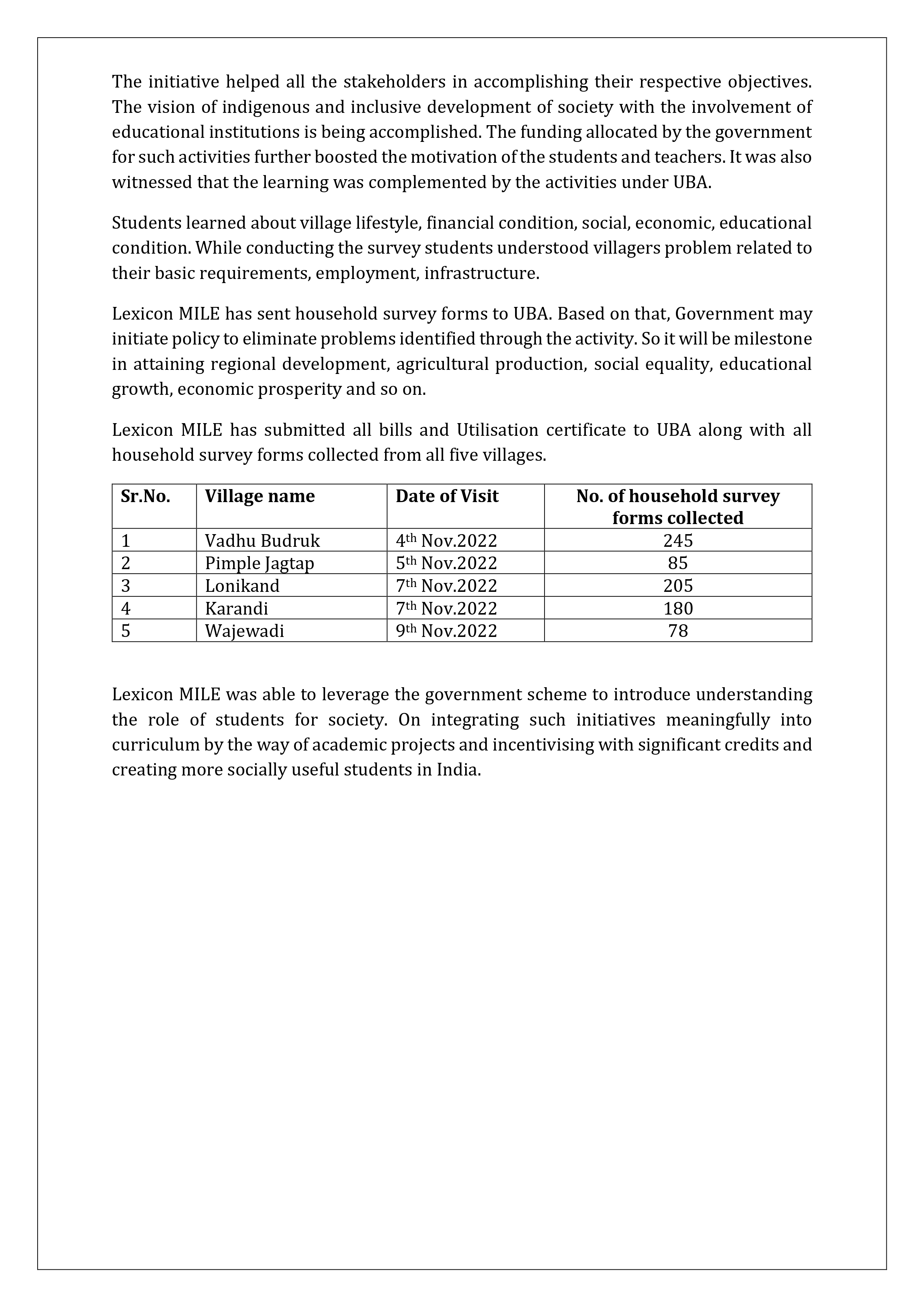 Events Organised by Institute
S.No.
Name of the Organising institute
Name of the Organising Committee with designation for Event
Name of the Partners
Theme of the Event
Date of Events
Venue of the Event
No. of Participants
Funding Received if any from AICTE or other body or Earning amount
Names of Resource persons
Enclousers
1
Lexicon Management Institute of Leadership and Excellence
-
Ted-X
Tedx -Lexicon MILE - 'Believe in Yourself'- how does self-belief move mountains and help you create inspiring lives and change the world.
8th Feb 2020
Tedx -Lexicon MILE
250
NIL
1) Ajinkya Deshmukh
2) Akanksha Sharma
3) Nasir Shaikh


2
​Lexicon Management Institute of Leadership and Excellence
-
Ted-X
Tedx -Lexicon MILE
30th Oct. 2021
Tedx -Lexicon MILE
250
NIL
1) Dr. Paras
2) Dr. Abhijit Sonawane
3) Hinesha Sanjay Sonar


3
Lexicon MILE , Pune


--
Lexicon Mile PGDM Batch 2020-22 Academics & Certification
22nd April 2020
Online Via MS-Teams App, Lexicon MILE , Pune


--
Prof. Raju Verghese


4
Lexicon MILE , Pune


--
English - Voice & Accent Training
13th May 2020
Online Via MS-Teams App, Lexicon MILE , Pune


--
Ms.Toral Parekh


5
Lexicon MILE , Pune


--
MS-Team Awareness
16th May 2020
Online Via MS-Teams App, Lexicon MILE , Pune


--
Mr. Parmeshwar Kawale


6
Lexicon MILE , Pune


--
Internship Briefing
18th May 2020
Online Via MS-Teams App, Lexicon MILE , Pune


--




7
Lexicon MILE , Pune


--
Internship Briefing
18th May 2020
Online Via MS-Teams App, Lexicon MILE , Pune


--




8
Lexicon MILE , Pune


--
The Marketing Juggle - A Perspective On Shifting Trends!
23rd May 2020
Online Via MS-Teams App, Lexicon MILE , Pune


--




9
Lexicon MILE , Pune


--
Stepping Stones To Success In The Corporate World-Insights & Tips
23rd May 2020
Online Via MS-Teams App, Lexicon MILE , Pune


--




10
Lexicon MILE , Pune


--
English Is Just A Language
26th May 2020
Online Via MS-Teams App, Lexicon MILE , Pune


--
Ms.Bidisha Bhadury


11
Lexicon MILE , Pune


--
Lexicon Cares
27th May 2020
Online Via MS-Teams App, Lexicon MILE , Pune


--
Mr. Nasir Shaikh


12
Lexicon MILE , Pune


--
Future Proof Your Heath
29th May 2020
Online Via MS-Teams App, Lexicon MILE , Pune


--
Ms. Somya Gupta (Trained under Rutuja Divekar as a senior Nutrionist)


13
Lexicon MILE , Pune


--
Hostel And Cafe Facilities
1st June 2020
Online Via MS-Teams App, Lexicon MILE , Pune


--
Ms. Tanushree Chaudhry


14
Lexicon MILE , Pune


--
Live Chat With Mr. Neeraj Sharma
2nd June 2020
Online Via MS-Teams App, Lexicon MILE , Pune


--
Mr. Neeraj Sharma


15
Lexicon MILE , Pune


--
Common Errors In English Grammar And Pronunciation
3rd June 2020
Online Via MS-Teams App, Lexicon MILE , Pune


--
Ms.Bidisha Bhadury


16
Lexicon MILE , Pune


--
Education: Thriving & Connecting Industry 4.0
5th June 2020
Online Via MS-Teams App, Lexicon MILE , Pune


--
Prof R Hariharan (Advisor AICTE), Prof Prabhat Ranjan (VC DY Patil International University), Prof R.L.Raina (VC JK Lakshmipat University), Dr Rakesh Ranjan (VC Zee Himgiri University), Mr Sanjiv Goswani (President, CEGR & MD Spring Nature) and Mr Nasir Shaikh (CEO Lexicon MILE)


17
Lexicon MILE , Pune


--
Employability Skills In The Disrupted World
6th June 2020
Online Via MS-Teams App, Lexicon MILE , Pune


--
Mr Nasir Shaikh (CEO Lexicon MILE), Dr. Aloknath De (SVP & CTO-Samsung India, Bangalore), Mr. Ravish Roshan (Director, Centre for Growth & Research CEGR)


18
Lexicon MILE , Pune


--
Rendezvous With Your Seniors - Batch Of 18-20
8th June 2020
Online Via MS-Teams App, Lexicon MILE , Pune


--
Mr.Nasir Shaikh (CEO, Lexicon MILE), Mr. Raju Varghese (Director In-charge Academics), Swecha Tiwari, Rishi Mukherjee,Nitya, Yash Nagvenkar(Batch 2018-20)


19
Lexicon MILE , Pune


--
Starting A Different Life
9th June 2020
Online Via MS-Teams App, Lexicon MILE , Pune


--
Mr. Nasir Shaikh (CEO, Lexicon MILE), Mr. Stefano Pelle (MD, Ferrero India PVT Ltd)


20
Lexicon MILE , Pune


--
Individual Presentation By Student And Feedback
10th June 2020
Online Via MS-Teams App, Lexicon MILE , Pune


--
Ms. Bidisha Bhadury


21
Lexicon MILE , Pune


--
Get To Know Lexicon Management Institute Of Leadership Excellence Better
11th June 2020
Online Via MS-Teams App, Lexicon MILE , Pune


--
Mr.Nasir Shaikh (CEO, Lexicon MILE), Mr. Raju Varghese (Director In-charge Academics), Pushkar pandey, Bithika Garg, Promita Mazumdar, Jay Joshi (Batch 2019-21)


22
Lexicon MILE , Pune


--
Innovation The Base Of Existence
12th June 2020
Online Via MS-Teams App, Lexicon MILE , Pune


--
Dr. Vijay P Bhatkar (Father of Indian Supercomputer) & Mr. Nasir Shaikh (CEO Lexicon MILE


23
Lexicon MILE , Pune


--
Live Chat With Mr. Pankaj Sharma
13th June 2020
Online Via MS-Teams App, Lexicon MILE , Pune


--
Mr. Pankaj Sharma


24
Lexicon MILE , Pune


--
It Is Not Just About Education Loan, It Is About The Best Loan
14th June 2020
Online Via MS-Teams App, Lexicon MILE , Pune


--
Mr. Hasil & Mr. Sasidhar


25
Lexicon MILE , Pune


--
How Effective Procurement Can Play A Key Role In The Revival Of Industries
15th June 2020
Online Via MS-Teams App, Lexicon MILE , Pune


--
Dr. Nitin Shankar Nagrale (Chief Executive Officer India and Emerging Markets at Quality NZ), Mr. Nasir Shaikh (CEO Lexicon MILE)


26
Lexicon MILE , Pune


--
The Psychological Impact Of Covid-19
16th June 2020
Online Via MS-Teams App, Lexicon MILE , Pune


--
Dr Swati & Dr Anuja


27
Lexicon MILE , Pune


--
Career Possibilities In The Entertainment Industry Through Your MBA
16th June 2020
Online Via MS-Teams App, Lexicon MILE , Pune


--
D J Akhtar


28
Lexicon MILE , Pune


--
Loud Reading By Seven Students Followed By Feedback On Pronunciation And Voice Modulation And A Vocabulary Sheet Which Will Be Shared.
17th June 2020
Online Via MS-Teams App, Lexicon MILE , Pune


--
Ms. Bidisha Bhadury


29
Lexicon MILE , Pune


--
Turning Adversity To Advantage
17th June 2020
Online Via MS-Teams App, Lexicon MILE , Pune


--
Mr Sanjiv Goswami


30
Lexicon MILE , Pune


--
Our Placement Journey Over A Year
18th June 2020
Online Via MS-Teams App, Lexicon MILE , Pune


--
Mr. Chandra Kant Singh


31
Lexicon MILE , Pune


--
Luxury Sales In Pandemic Times
19th June 202
Online Via MS-Teams App, Lexicon MILE , Pune


--
Mr Vishal Aggarwal


32
Lexicon MILE , Pune


--
Students Of Lexicon MILE In The Corporate World
20th June 2020
Online Via MS-Teams App, Lexicon MILE , Pune


--
Mr Viishal Bhargava


33
Lexicon MILE , Pune


--
Academics & Certification
22nd June 2020
Online Via MS-Teams App, Lexicon MILE , Pune


--
Mr Raju verghese


34
Lexicon MILE , Pune


--
Business Adaptability, Flexibility & Sustainability During Pandemic Times
23rd June 2020
Online Via MS-Teams App, Lexicon MILE , Pune


--
Mr. Stephan Krol


35
Lexicon MILE , Pune


--
Present Tense & Future Tense
24th June 2020
Online Via MS-Teams App, Lexicon MILE , Pune


--
Ms Bidisha


36
Lexicon MILE , Pune


--
The Mindset Required For Success In Times Of Recession
25th June 2020
Online Via MS-Teams App, Lexicon MILE , Pune


--
Mr. Gurmeet Singh


37
Lexicon MILE , Pune


--
Leading Yourself To Lead Others
26th June 2020
Online Via MS-Teams App, Lexicon MILE , Pune


--
Mr. Aditya Rahul


38
Lexicon MILE , Pune


--
Unravelling Human Resources
29th June 2020
Online Via MS-Teams App, Lexicon MILE , Pune


--
Ms Payal Singh


39
Lexicon MILE , Pune


--
Happiness In Covid Times
6th July,2020
Online Via MS-Teams App, Lexicon MILE , Pune


--
Prof. Dr. Abhay Kumar


40
Lexicon MILE , Pune


--
Importance Of Up skilling & Investing In Education During Times Of Economic Recession
10th July,2020
Online Via MS-Teams App, Lexicon MILE , Pune


--
Mr. Nasir Shaikh


41
Lexicon MILE , Pune


--
Happiness Quotient
11th July,2020
Online Via MS-Teams App, Lexicon MILE , Pune


--
Mr. Swastik Sirsikar


42
Lexicon MILE , Pune


--
Business Adaptability, Flexibility & Sustainability During Pandemic Times
14th July,2020
Online Via MS-Teams App, Lexicon MILE , Pune


--
Mr. Stephan Krol


43
Lexicon MILE , Pune


--
Academic Council Meet
08th Aug 2020
Online Via MS-Teams App, Lexicon MILE , Pune


--




44
Lexicon MILE , Pune


--
Importance Of Up skilling & Investing In Education During Times Of Economic Recession - With Mr. Nasir Shaikh
11th Aug 2020
Online Via MS-Teams App, Lexicon MILE , Pune


--
Mr. Nasir Shaikh


45
Lexicon MILE , Pune


--
Believe In Yourself
24th Aug 2020
Online Via MS-Teams App, Lexicon MILE , Pune


--
Mr. Nasir Shaikh


46
Lexicon MILE , Pune


--
Mental Health In Times Of Adversity
28th Oct 2020
Online Via MS-Teams App, Lexicon MILE , Pune


--
Tava Mitram


47
Lexicon MILE , Pune


--
Expectation Of Corporate World
30th Oct 2020
Online Via MS-Teams App, Lexicon MILE , Pune


--




48
Lexicon MILE , Pune


--
How To Become Successful In This Time Of Uncertainty
5-Apr-2021
Online Via MS-Teams App, Lexicon MILE , Pune


--
Dr. Ashok J. Kothari


49
Lexicon MILE , Pune


--
How To Overcome The Fear Of Public Speaking- Part 1
April 7, 2021
Online Via MS-Teams App, Lexicon MILE , Pune


--
Ms.Bidisha Bhadury


50
Lexicon MILE , Pune


--
Webinar On Knowledge : A Bankable Advantage With
April 9, 2021
Online Via MS-Teams App, Lexicon MILE , Pune


--
Mr.Praful Dave


51
Lexicon MILE , Pune


--
Corporate Interactions
10-Apr-2021
Online Via MS-Teams App, Lexicon MILE , Pune


--
Mr. Rishi Arora


52
Lexicon MILE , Pune


--
Introduction To Lexicon Management Institute Of Leadership & Excellence
April 12, 2021
Online Via MS-Teams App, Lexicon MILE , Pune


--
Mr.Nasir Shaikh


53
Lexicon MILE , Pune


--
Basics Of Branding - Stefano Pelle
April 14, 2021
Online Via MS-Teams App, Lexicon MILE , Pune


--
Mr.Stefano Pelle


54
Lexicon MILE , Pune


--
Decision Making & Problem Solving - Webinar
April 16, 2021
Online Via MS-Teams App, Lexicon MILE , Pune


--
Mr. Abhilash G Nambudiri


55
Lexicon MILE , Pune


--
Passion Adaptability And Resilience -The Key To Success
April 17, 2021
Online Via MS-Teams App, Lexicon MILE , Pune


--
Mr. Sharad Lodhi and Mr. ajay Badgujar ,Mr. Nasir shaikh,Mr. anup Sheth


56
Lexicon MILE , Pune


--
Certification : 'Persuasion-Emotion- Trust' (Pet) Framework
April 17, 2021
Online Via MS-Teams App, Lexicon MILE , Pune


--
Mr. Mathivanan Rajendran


57
Lexicon MILE , Pune


--
Entrepreneur Talk
April 19, 2021
Online Via MS-Teams App, Lexicon MILE , Pune


--
Mr. Akshat Oswal


58
Lexicon MILE , Pune


--
Design Thinking
April 23, 2021
Online Via MS-Teams App, Lexicon MILE , Pune


--
Mr. Shreeyash Kolhapure


59
Lexicon MILE , Pune


--
Pre Joining Certification Digital Marketing
April 24, 2021
Online Via MS-Teams App, Lexicon MILE , Pune


--




60
Lexicon MILE , Pune


--
Insight Into Project Management
April 24, 2021
Online Via MS-Teams App, Lexicon MILE , Pune


--
Mr. Chirag Parekh


61
Lexicon MILE , Pune


--
Pre Joining Certification : Digital Marketing
April 25, 2021
Online Via MS-Teams App, Lexicon MILE , Pune


--




62
Lexicon MILE , Pune


--
How To Overcome The Fear Of Public Speaking
April 26, 2021
Online Via MS-Teams App, Lexicon MILE , Pune


--
Ms.Bidisha Bhadury


63
Lexicon MILE , Pune


--
Motivation
April 28, 2021
Online Via MS-Teams App, Lexicon MILE , Pune


--
Ms. Deepti Sharma


64
Lexicon MILE , Pune


--
Rural Markets In India
Apr 30, 2021
Online Via MS-Teams App, Lexicon MILE , Pune


--
Mr. Pradeep Lokhande
>

65
Lexicon MILE , Pune


--
Finding The Leaders In You
May 1 , 2021
Online Via MS-Teams App, Lexicon MILE , Pune


--
Mr. Quaiser Khaled


66
Lexicon MILE , Pune


--
Pre Joining Certification : Digital Marketing
May 1, 2021
Online Via MS-Teams App, Lexicon MILE , Pune


--




67
Lexicon MILE , Pune


--
Pre Joining Certification : Digital Marketing
May 2, 2021
Online Via MS-Teams App, Lexicon MILE , Pune


--




68
Lexicon MILE , Pune


--
Introduction To Systems Thinking
May 3, 2021
Online Via MS-Teams App, Lexicon MILE , Pune


--
Mr. Zareer Aga


69
Lexicon MILE , Pune


--
Adversity To Advantage
5-May-2021
Online Via MS-Teams App, Lexicon MILE , Pune


--
Mr. Mangesh Pol


70
Lexicon MILE , Pune


--
System Thinking - Part 2
7-May-2021
Online Via MS-Teams App, Lexicon MILE , Pune


--
Mr. Zareer Aga


71
Lexicon MILE , Pune


--
Introduction To Supply Chain Management
8-May-2021
Online Via MS-Teams App, Lexicon MILE , Pune


--




72
Lexicon MILE , Pune


--
Introduction To Logistics
8-May-2021
Online Via MS-Teams App, Lexicon MILE , Pune


--




73
Lexicon MILE , Pune


--
Banking & You
8-May-2021
Online Via MS-Teams App, Lexicon MILE , Pune


--
Mr.Ravi Slathia


74
Lexicon MILE , Pune


--
Introduction To Warehousing
9-May-2021
Online Via MS-Teams App, Lexicon MILE , Pune


--




75
Lexicon MILE , Pune


--
Customer Requirement & Role Of SCM
9-May-2021
Online Via MS-Teams App, Lexicon MILE , Pune


--




76
Lexicon MILE , Pune


--
Etiquettes - I
11-May-2021
Online Via MS-Teams App, Lexicon MILE , Pune


--
Dr.Priyanka Srivastava


77
Lexicon MILE , Pune


--
Neuro-Marketing
12-May-2021
Online Via MS-Teams App, Lexicon MILE , Pune


--
Mr.Ajit Thatte


78
Lexicon MILE , Pune


--
Neural Marketing
14-May-2021
Online Via MS-Teams App, Lexicon MILE , Pune


--
Mr. SACHIN MAHESHWARI


79
Lexicon MILE , Pune


--
System Integration
15-May-2021
Online Via MS-Teams App, Lexicon MILE , Pune


--




80
Lexicon MILE , Pune


--
Supply Chain Management & Finance
15-May-2021
Online Via MS-Teams App, Lexicon MILE , Pune


--




81
Lexicon MILE , Pune


--
The Exciting World Of Brands, Branding And Consumer Behavior.
15-May-2021
Online Via MS-Teams App, Lexicon MILE , Pune


--
Mr.Adnan Pocketwala


82
Lexicon MILE , Pune


--
Understanding Inventory
16-May-2021
Online Via MS-Teams App, Lexicon MILE , Pune


--




83
Lexicon MILE , Pune


--
Future Of Supply Chain Management
16-May-2021
Online Via MS-Teams App, Lexicon MILE , Pune


--




84
Lexicon MILE , Pune


--
Etiquettes - Ii
18-May-2021
Online Via MS-Teams App, Lexicon MILE , Pune


--
Dr.Priyanka Srivastava,


85
Lexicon MILE , Pune


--
NBA Guidancet Lecture By Ravindra Vaidya
18-May-2021
Online Via MS-Teams App, Lexicon MILE , Pune


--
Mr.Ravindra Vaidya


86
Lexicon MILE , Pune


--
CEO Connect
20-May-2021
Online Via MS-Teams App, Lexicon MILE , Pune


--
Mr.Nasir Shaikh


87
Lexicon MILE , Pune


--
Interaction On Entrepreneurship Series
21-May-2021
Online Via MS-Teams App, Lexicon MILE , Pune


--
Mr.GIRISH DODDAMANI


88
Lexicon MILE , Pune


--
Interaction On Leadership Series
22-May-2021
Online Via MS-Teams App, Lexicon MILE , Pune


--
Mr. Shriram Desai


89
Lexicon MILE , Pune


--
Etiquettes - III
25-May-2021
Online Via MS-Teams App, Lexicon MILE , Pune


--
Dr.Priyanka Srivastava


90
Lexicon MILE , Pune


--
Managing Money - Mr. Vikas Kumar Jain
26-May-2021
Online Via MS-Teams App, Lexicon MILE , Pune


--
MR.VIKAS KUMAR JAIN


91
Lexicon MILE , Pune


--
Hr- Role & Relevance
28-May-2021
Online Via MS-Teams App, Lexicon MILE , Pune


--
Mr. Sujit Joshi


92
Lexicon MILE , Pune


--
Sarathi - MSME Sustenance - Pandemic Challenges
29-May-2021
Online Via MS-Teams App, Lexicon MILE , Pune


--
Mr. Sanju Unni


93
Lexicon MILE , Pune


--
CEO Connect
31-May-2021
Online Via MS-Teams App, Lexicon MILE , Pune


--
Mr.Nasir Shaikh


94
Lexicon MILE , Pune


--
Examination Software Orientation By Exam Department
31-May-2021
Online Via MS-Teams App, Lexicon MILE , Pune


--
Mr.Parmeshwar Kawale


95
Lexicon MILE , Pune


--
Etiquette Part Iv
2-Jun-2021
Online Via MS-Teams App, Lexicon MILE , Pune


--
Dr.Priyanka Srivastava


96
Lexicon MILE , Pune


--
Data Analytics
4-Jun-2021
Online Via MS-Teams App, Lexicon MILE , Pune


--
Mr.Samir Jha


97
Lexicon MILE , Pune


--
Corporate Interface
5-Jun-2021
Online Via MS-Teams App, Lexicon MILE , Pune


--
MR CECIL CHERIAN


98
Lexicon MILE , Pune


--
Mastering Communication – Ms. Deepika Hemnani
9-Jun-2021
Online Via MS-Teams App, Lexicon MILE , Pune


--
Ms.Deepika Hemnani


99
Lexicon MILE , Pune


--
Retail Management
11-Jun-2021
Online Via MS-Teams App, Lexicon MILE , Pune


--
MR . SANJIV KINGA


100
Lexicon MILE , Pune


--
Personal Growth Along With Organizational Growth
12-Jun-2021
Online Via MS-Teams App, Lexicon MILE , Pune


--
MS SHWETA JHA


101
Lexicon MILE , Pune


--
Corporate Expectations From Students
14-Jun-2021
Online Via MS-Teams App, Lexicon MILE , Pune


--
Mr. Vaibhav Meghe


102
Lexicon MILE , Pune


--
Corporate Expectation From Students
14-Jun-2021
Online Via MS-Teams App, Lexicon MILE , Pune


--
Mr. Vaibhav Meghe


103
Lexicon MILE , Pune


--
Webinar On Reading
16-Jun-2021
Online Via MS-Teams App, Lexicon MILE , Pune


--
PROF. RAJU VARGHESE


104
Lexicon MILE , Pune


--
Brand Management
18-Jun-2021
Online Via MS-Teams App, Lexicon MILE , Pune


--
Mr. BEJOY THOMAS KURUVILLA


105
Lexicon MILE , Pune


--
Non Verbal Communication
21-Jun-2021
Online Via MS-Teams App, Lexicon MILE , Pune


--
PROF. RAJU VARGHESE